Unique movies nominated for "Best Picture"
The 86th annual Academy Awards ceremony will be held on Sunday, March 2, and the lineup of nominees is a promising one. In the past year, Hollywood has given us some of the most eclectic films in film history.
Take a look at some of the most unique films for Best Picture of the Year:
"Her":
In this futuristic film, Joaquin Phoenix plays Theodore Twombly, a young, aspiring writer who has recently endured a heavy divorce with his wife. Living alone with a dead-end job at a personal love letter business, Theodore isolates himself from the world and those who care about him.
That is, until he meets Samantha.
Now, Samantha's not an ordinary girl. In fact, she isn't even a girl – she's an artificial intelligent operating system (think Siri). She doesn't come in with a monotone voice, but a warm voice that even the audience will fall in love with, probably because Scarlett Johannsson is the woman behind Samantha's voice. She helps Theodore overcome his breakup and teaches him to be happy again, inevitably falling in love with him.
Now, this movie obviously isn't the typical love story, but that's what makes it an interesting and unique movie. Spike Jonze detaches away from the clichéd romance-comedy. "Her" is a movie that leaves viewers to understand the meaning of what the meaning behind the film is. Does it represent our society's attachment to technology? Does it foreshadow a futuristic world? You'll only have to watch the movie to interpret its true meaning.
"American Hustle":
Bradley Cooper, Jennifer Lawrence, Amy Adams and Christian Bale are part of an all-star cast in director David O'Russell's hit "American Hustle." Bale plays Irving Rosenfield, a con artist, who has an extramarital affair with Amy Adam's character, Sydney Prosser. Together, they cheat people out of millions of dollars in a loan scam.
But life's not all fun and games for Irving and Sydney. At home, Irving has to take care of his unstable wife, Rosalyn (Lawrence) and their son, whom Irving has adopted. Irving and Sydney must also deal with FBI agent Richie DiMaso (Cooper), who tells the couple that they can help him with four additional arrests in exchange for their release from jail.
Upon its release, "American Hustle" generated positive reviews from critics. The movie is filled with '70's nostalgia, including a soundtrack filled with music that your parents danced to. "American Hustle" is a confusing, yet fascinating movie. If you've heard of or watched David O'Russell direct 2012's "Silver Lining Playbook" (which also starred Cooper and Lawrence), "American Hustle" is a play between action and comedy.
"Captain Phillips":
At first glance, it seems like a boring movie that you'd catch your parents watch. But in actuality, it's more action-packed than you think. Tom Hanks stars in this biographical flick as the title character Captain Richard Phillips, a merchant mariner whose crew was hijacked by Somalian pirates.
Hanks is superb as the courageous Captain Phillips, and you'll be involved in the movie for so long that you'll feel like you're watching an exciting live stream of a police chase.
Filled with suspenseful moments that will leave you on the edge of your seat, "Captain Phillips" hopes to steal the Best Picture Award.
"Dallas Buyers Club":
Matthew McConaughey plays an AIDS patient in the biographical "Dallas Buyers Club." After discovering that a number of illegal pharmaceutical drugs could save his life, Ron Woodroof (McConaughey) smuggles them into Texas to sell them to individuals who are also suffering from AIDS. He calls his business "The Dallas Buyers Club," which eventually runs into trouble with the FDA.
Think Robin Hood, except with a more bizarre and dramatic twist.
McConaughey and 30 Seconds to Mars frontman Jared Leto gained a number of nominations, including Best Actor and Best Supporting Actor, respectively. "Dallas Buyers Club was a movie that may have ended in tragedy, but was still interesting to watch in the process.
Other nominees for Best Picture include "The Wolf of Wall Street," "12 Years a Slave," "Philomena," "Gravity" and "Nebraska."
Which movie will come out on top? Find out on Sunday, March 2, when the Academy Awards will air live on ABC at 6:30 p.m., HST.
About the Contributor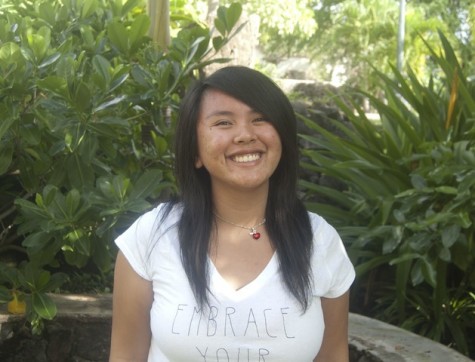 Vina Cristobal, Staff Writer
Vina Cristobal is a junior who is majoring in Communications (Mass Media). This is her second semester as a staff writer for the Silversword.  In her...