Paddling into the pros
From the minor leagues to the major leagues of surf is what this young freshman at Chaminade University of Honolulu has accomplished with his transition from Boston to Hawaii. Eddie Traniello landed a surf sponsorship from both Wave and Pave surf and Natti Surf at the age of 16, and now at 18, he's working his way into the pros.
After consistently winning first place in the Easter Surfing Association competitions on the East Coast, he decided to enter the Freedom Surf Competitions in Hawaii. Traniello was the youngest surfer to make the finalist and received sixth place in the men's division after a grueling three days in the water.
"Just the fact that my first contest in Hawaii I made the finalist is cool," said Traniello, who is majoring in Marine Biology. "I can make finals back home in Massachusetts and in New Hampshire, but to make one in a place that is the center of surfing is pretty cool."
The young surfer picked up his first board at 8 years of age and fell in love with the sport. His father, who also surfed in the 1960s, mentored him and showed him the fundamentals or surfing. His father also taught Traniello to respect the ocean and always pay attention to mother nature.
"I think that being dedicated and committed in Boston has taught me to do good in Hawaii," Traniello said. "Out here there not that much room for mistakes … the guys I was sharing the stage with where top level dudes so I was just stoked to share the stage with them."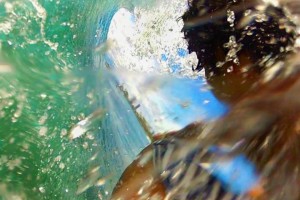 When the surf was flat in Boston, Traniello would skate around the neighborhood doing maneuvers that would also translate and be used in the water. Maneuvers like pop-shuv-it's (turning the board 180 degrees without turning your body) and riding goofy (or switch as in turning the board backwards). As he got older he began to pay a lot more attention to professional surfers. One of those pro surfers grew up in Kauai surfing in the shallow reefs of the North Shore, Andy Irons, a 20-time elite champion including three time world titles.
"I grew up watching all of his videos, and he was a pretty heavy guy," Traniello said. "He set the bar pretty high and was so aggressive on everything he did."
Inspired by some of the biggest names in the surfing world like Kelly Slater and Rob Machado, Traniello's passion pushed him to gear up in his wet suit every year and paddle out into the waves in Boston during hurricane season. Surfing in dangerous waters was't enough for his burning desire to go big so in the winter of 2012 while out on his yearly visit to Puerto Rico he decided to hit the surf.
He paddled out to a wave that couldn't be seen from the beach. The place where he rode his first 20-foot wave is called Tres Palmas (or Three Palm Trees). This place is know for to have big waves. The fact that he was part of the swim team in high school and a lifeguard back home gave him the confidence needed to conquer a wave the size of a two-story house.
"When you see it, you're just sitting out (and) there your adrenaline goes up, but once you start paddling … it's just instinct; you react more to it," Traniello said.
This surf daredevil is now looking at swells coming in from the north of the island. He has a busy schedule with a full load of classes and working as part-time surf instructor in Waikiki. Every chance he gets, he's hitching a ride to head up north to catch some of the swells that crash on the North Shore.
"We watched the Sunset competition,we paddled out and watched it from the water," Traniello said. "Definitely if I get a couple of more years practicing up north, it's such a different environment, but with in time I'll be entering the big competitions."
About the Contributor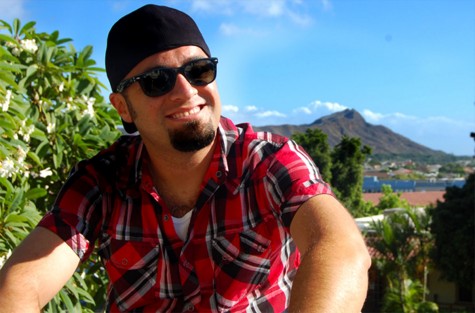 Jerry Vizcarra, Staff Writer
Jerry Vizcarra is originally from Carson, Calif. He is an Inner City Filmmakers alumni where he learned the fundamentals of filmmaking. In 2008 he was...