Brewing a Business Plan
Today's homework is to try a beer and see if it was brewed to perfection. Graduate student Trey Roy is turning his hobby of making homemade beer into a business plan for the 401 Hogan Entrepreneurship class at Chaminade University of Honolulu.
The idea behind his business is to allow people to set up an appointment, come into the place of business, choose a recipe, and the staff would guide them through the process of creating their own batch of beer. The name of his beer company will be Splintered Paddle Brewing Company.
"It would be kind of like build a bear … build a brew," Roy said. "You get to bottle it once it's done fermenting, have fun with the labels, get creative pretending you have your own brewery and take it home and enjoy."
The 26-year-old has been brewing beer for more than three years. After taking a business class, he became obsessed with starting his own brewery business. According to the young entrepreneur, no one in Hawaii has created a business like this one.
Roy developed a thirst for home brewing during his undergraduate years at Pacific University of Oregon. After spending four years on the mainland studying film production, he decided to come back to Oahu to pursue an master's degree in business.
"My original plan was to have my own personal blog called The Beer Kahuna," Roy said. "That blog would be my adventures in the craft beer world. … I wanted to focus on the beer because beer has its own story and it should be highlighted."
The second-year Hogan student plans on taking his passion for both beer and film to create a blogging site that will promote his beer company as well as other brewers like himself. Roy has spent most of his life on the island of Oahu and feels there should be more video coverage on local businesses to help create public awareness.
"No one is really sharing this in Hawaii," Roy said. " Video is a lot more powerful than the written word right now, so if people can watch it they can relate better with what is happening and in real time."
The business model is a bit more complicated than just having people brew beer. Roy is creating a company that allows people to be creative in his brewery and it is also a place where he will feature other businesses that sell great beer and promote upcoming events that he will be attending to review.
The Splintered Paddle name has a history connected to it. It dates back to the year 1797 when King Kamehameha was spared by two fishermen who stayed behind in battle to cover the retreat of a man carrying a child.  Kamehameha's leg was caught in the reef, and one of the fishermen, Kaleleiki, hit him mightily on the head with a paddle in defense, which broke into pieces.
Years later, the same fisherman was brought before Kamehameha. Instead of ordering for him to be killed, Kamehameha ruled that the fisherman had only been protecting his land and family, and so the Law of the Splintered Paddle was declared.
If all goes accordingly, Roy hopes to implement his business plan in the spring of 2014 through a site called Island Funder. This site, similar to kick-starter. People who visit the site can view the business plan and decide if they would like to donate to an organization that is of interest.
"I would like to emulate this ideology," said Roy. "There is no other business within the industry in Hawaii that promotes community; where individuals can learn, drink, and enjoy the company of like-minded individuals and belong."
About the Contributor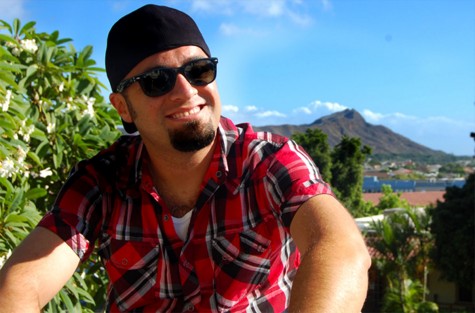 Jerry Vizcarra, Staff Writer
Jerry Vizcarra is originally from Carson, Calif. He is an Inner City Filmmakers alumni where he learned the fundamentals of filmmaking. In 2008 he was...