Girl Rising
According to the World Bank Education Statistics, 9.9 million school-aged girls are out of school in Nigeria, Pakistan, and Ethiopia. These are a few of the many countries that perceive the education for girls as unnecessary, unethical, and possibly a threat.
While many American teenagers hope to be accepted into the college of their choice, other teens in developing countries may never learn anything pass the third grade at most. To many first-world nations, such as the United States, sending girls to school is second nature. Boys and girls have an equal opportunity to be sent to school, and plenty of programs are dedicated to the education of children of both gender.
In second-and third-world countries, tradition mostly triumphs over education. Many of these countries are male-dominated where women have few rights, sons are preferred over daughters, and schooling is reserved for boys.
On Thursday, Nov. 7, the Chaminade Student Nurses Association presented, "Girl Rising," at the Clarence T.C. Ching Conference Center in Eiben Hall. The film documented the lives of nine young girls around the world who aim for an equal opportunity to receive an education despite the cultural, financial, and personal obstacles.
Sohka was a Cambodian "child of the dump." She was orphaned and forced to pick through garbage to survive, but she eventually found her way to school. According to GirlRising.com, today only 20 percent of Cambodian children attend secondary school, and only 25% of them are girls. Sohka was recently invited to speak at an International Women's Day Conference in New York.
"My education has always been important to me. But now I feel more educated to want to do better for myself, to want to go and help someone else get a better education," said Jamie Younger, who is a junior and majoring in international trade. "Not just for little girls but little boys too. Treasure your life, your education, and be accepting and help other people out."
Wadley possesses a vibrant and ambitious spirit. At 7 years old, her life changed due to Haiti's disastrous earthquake, which destroyed her town and school. Each day she returned to the remaining schoolhouse determined to learn, even though she was turned away each time. Today, she's back in school and very passionate about science and photography.
Suma, from Nepal, was forced into labor at the tender age of 6, while her brothers attended school. She spent years under abusive masters while eating scraps from the family table and living in uncomfortable quarters. She expressed herself through writing songs and singing. Suma eventually crossed paths with a female teacher, who pressed her master to set her free, which he eventually did. Today she continues to advocate against "bonding" (children, mostly daughters from extremely poor families, sold to work in other people's homes), speaking out against child slave labor, and sings about her life.
"Their stories are largely based on where they are born so their culture is definitely making each story unique yet the passion to become, to grow is so similar," said Eva Washburn, a communications professor. "We are so blessed."
These are a few of the many inspiring girls who have had the opportunity to receive an education. These are the lucky ones. According to EFA Global Monitoring Report, 65 million girls are out of school globally. Two-thirds of the 792 million illiterate adults in the world are female. A girl with an extra year of education can earn 20% more as an adult, according to the World Bank.
The audience members for the film, which consisted of students and professors from a variety of majors, said that they felt empowered, inspired and wanted to, one day, make a difference in the lives of girls such as these.
"It's kind of hard to believe that things like that are still happening, but it's kind of like a sad truth I guess," said Liezel Duldulao, who is a junior and majoring in environmental science and interior design. "This shows how important it is for girls to get an education just so they can have a better life and change the norms. My family has always considered getting a higher education very important. I am the first one in my family to go to college. Using my education, and in the future hopefully being able to in some way to give others, especially girls, an education that I was able to have."
If you want more information on how to get involved, go to www.girlrising.com
About the Contributor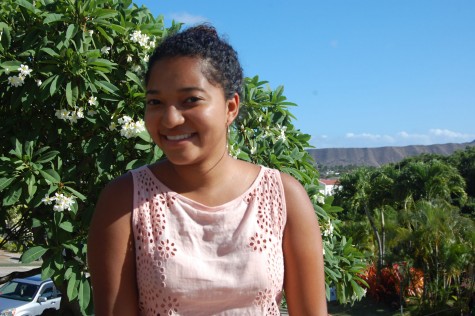 Starr Benson, Staff Writer
Starr Benson is from Los Angeles, Calif., and is a junior at Chaminade University. She is majoring in Communications with a concentration in Marketing...