Letʻs take a trip to Almost, Maine
"Thereʻs gotta be something that makes you feel good or at least make sense in this world, or whatʻs the point, right?"
For most, life doesnʻt always go as planned. While some try to organize every last detail of their life, most of the time it just doesnʻt happen. However, there are others who just "go with the flow" and everything seems to fall into place. On November 9, the Chaminade University Theatre Department presented "Almost, Maine," a romantic comedy portraying the lives of 19 young adults falling in, out, and trying to make sense of love.
"Flowers for Algernon" was intentionally the original play that director Brother Gary Morris had in mind for the fall 2013 production, however due to the lack of auditions and an inspiring summer trip to New York, Morris decided to go with "Almost, Maine."
"We chose this because I was going to do ʻFlowers for Algernonʻ, but it was a much larger cast and I did not get enough people auditioning," said Morris. "This was something that was on my radar. Itʻs a wonderful play. Itʻs delightful. Itʻs just a series of great scenes of people that live in this little town called ʻAlmost, Maineʻ. Itʻs about them almost making a relationship work, almost making a marriage work, almost getting together, and almost, not quite, making it all happen. I spoke and took a workshop with the playwright in New York in the summer so I got to know who he was and became interested in the show. So thatʻs why I decided to do this one."
Six Chaminade students acted in 19 roles total. With such a small cast, each student had their fair share of quick costume changes, playing multiple characters, and bearing through the challenge of bringing a winter wonderland of a small town nestled in snow, to the warm climates of Hawaii.
"It only takes six actors. It was actually written for four, but we have six and they play 19 roles," said Morris. "We didnʻt have a big try out but the actors we have here are great. Itʻs an ensemble piece so they all do they best that they can with the three or four roles each of them have. They really work hard. Theyʻre in three or four scenes each where they have to be different characters, they have to change, they have to wear winter clothes here."
For first timers, Max Meadows, a junior, and Alexander San Nicholas, a graduate student, auditioning and performing in front of a live audience was a bit daunting. For others, such as Adam Brewer, a junior, who has been in theatre for a number of years, each play presents itʻs own obstacles but for everyone, whether it is their first play or tenth, the outcome is to always have fun.
"This is my first time. It can be pretty nerve wrecking. For me, as long as I was staying within the scene, it was very easy to overcome the anxiety and just go with the scene," said San Nicholas. "Itʻs a very fun and a very interesting way to go about going through self development, especially if youʻre kind of introverted or you find it hard to try and articulate or try and communicate. Itʻs a great opportunity for students to come in and better themselves through communication and presentation and visual and audio arts."
"Iʻve been in about eight shows. Iʻve been doing theatre for about four years now," said Brewer. "At this point, I remember one of my teachers, who actually taught me theatre, told me that at a professional level they will sit there and make any noise for a scene and at my age it didnʻt make any sense but it makes a lot of sense now. Even if youʻre going through something very stressful at the time, itʻs a great way to get rid of your pent up stress. Just play pretend for a little bit that everythingʻs okay or everythingʻs not okay and you know, itʻll help you get through it."
According to the directorʻs note, "Almost, Maine" is, above all, a romantic play. Many of the stories are parallel  to the everyday relationship struggles and discoveries that take place all around the world to anyone of any age.
"My favorite scene is the story of Hope. Itʻs a very simple one. Itʻs a little bit of a sad ending, most of them are funny," said Morris. "Thereʻs a lot of clever things in this script. Itʻs very well written. Itʻs funny. Itʻs tender. Itʻs got romance in it. Itʻs got slapstick in it. Itʻs got all kinds of things in different scenes so thereʻs something there for everybody."
About the Contributor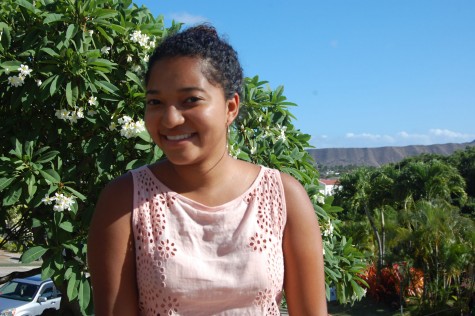 Starr Benson, Staff Writer
Starr Benson is from Los Angeles, Calif., and is a junior at Chaminade University. She is majoring in Communications with a concentration in Marketing...