Hair has no limits
The night seemed more than spectacular for, Carima Robinson, as she got ready for the 2013 Paul Brown Hawaii presents "Candy Land" event. With October labeled as Hawaii's fashion month, hair stylist Paul Brown made his Hawaii debut with the "Candy Land" PINK LUX Fashion showcase at The TRUMP by Belvedere.
Robinson, senior at Chaminade University who will receive her Bachelor of Arts in Business this December, is a receptionist at Paul Brown Salon and Day Spa at Ward center and active club member of "BCU" Black Cultures United. She had the privilege to be a part of this Hair fashion show on October 18.
Holding an interest in hair fashion and modeling, Robinson was ready for a wonderful evening at the fashion hair show. Week's prior to the event, Robinson was given notice that there was an opening as a model, she was offered the position.
"I was so nervous," said Robinson once she was given news about the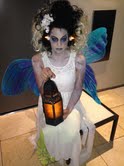 opening position for models. "It wasn't a regular fashion show where you walk
down a runway showcasing your clothing by particular designers, but it was a hair
show."
Robinson felt as if everything was coming together as she spent three long hard years to get to the point she's at. Along the way, she had many struggles like signing up for classes, financial struggles and finding a career she knew she could pursue in life for the greater good of all those around her.
"I have so much love for my family and friends, they have been the backbone to my
success in college and I'm so blessed and thankful that I've made it this far," said
Robinson.
After Robinson's three years at Chaminade, she finally decided that she wanted to pursue a career that involves hair, children, support and love. Robinson found a passion in hair, what it means to a person, and how there can be a further in-depth
meaning than just the strands that cover your cranium.
"Hair is creativity, beautiful no matter what the texture," Robinson said. "The bigger
the hair, the closer to God, which means pure happiness."
After applying to various positions at organizations that fulfilled
Robinson's criteria, she was finally offered a job position as a receptionist at the
Paul Brown Salon and Day Spa in January. Through this position she could
be exposed to the world of hair, hairstyles, and hair fashion.
Though the fashion show wasn't Robinson's first showcase, it was her first hair
showcase. Paul Brown Salon showcased the hairstyles and the make-up for the
entire event. This charity event was a good eye opener for Robinson to the many
opportunities she has and how she can make a difference in young children's eyes.
"I was once a kid, I know what it feels like to be made fun of, specially with the type
of hairstyle you have," Robinson said. "I want to change that, I want children to love
and appreciate the way God made them from head to toe, but especially their head."
The "Candy Land" event was held at the Trump International Hotel and Tower at the
Waikiki Beach Walk on Friday October 18. The theme for the event was Pink in support of breast cancer awareness month. A portion of proceeds from the event was donated to Susan G. Komen foundation. Ticket prices ranged from $10- $800. There was also an enforced "no denim" rule, as the event was a black tie and gown event.
"Yes I was scared, but mainly, gravity and I are not the best of friends," said
Robinson. "I'm the type of person who trips over her own feet, runs into walls, and
falls down stairs, so yes I was worried."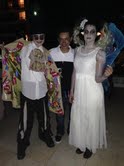 Carima Robinson
Model #4
Make-up artist: Nathan Wade
Hair Stylist/Character Design: Ian Abadie
Hairstyle: Designed with two large "Cruela Deville" lifts, which were pinned together to her natural hair. This style was then braided together and teased in the front for a more authentic and longer design. The hair was held together wit bobbie pins and decorated with a thin floral design in the front.
"Carima's luxurious hair design came out fantastic," said Paul Brown, Hawaii hair
stylist. "It brought a very vibrant aroma to the event, I just love it."
At the "Candy Land" event, there were more than 20 models in attendance all
showcased hairstyle designs constructed by Paul Brown Salon associate stylists, which made up a total number of 12 different designs.
Brown was proud of the work of the hair stylists, designers, staff and all those involved to make the event a success. Special thanks to Kerri Korycinski, Destini Gilliard and Kat Malecha for their diligently hard work to make sure the event ran smoothly.  Robinson loved the event. It blew her mind and she didn't expect the crowd to be so electrified when she walked around showcasing her hairstyle with the other models.
"Always remember your hair has no limitations and to me, a life with no limitations is priceless and worth more value than one without," Robinson said.
About the Contributor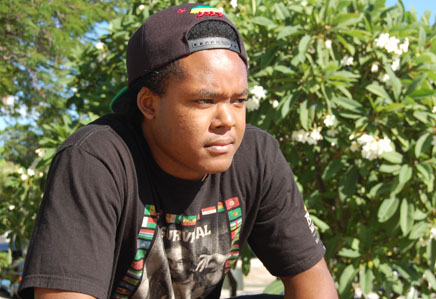 Terrance Aikens, Staff Writer
Terrance Aikens, a Los Angeles native to the greater South Central area, is pursuing a career as a radio disc jockey. Terrance  is a senior at Chaminade...