Chef Cassie is serving up Jamaican cuisine made with Aloha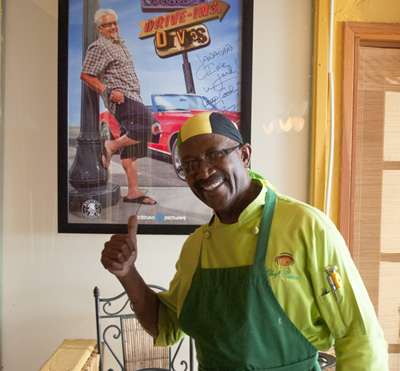 Chef Caswell "Cassie" Simmonds is the owner of the most well known Jamaican restaurant on all of the main islands of Hawaii. His establishment, Jawaiian Irie Jerk, offers all of the exotic herbs and spices that blend to create authentic Jamaican cuisine. As time progresses the humble chef continues to heighten his status in the gourmet arts.  Cassie has moved his way up in the culinary world from humble beginnings.
Born November 28th, 1948, the sixty five year old Cassie was raised in Portland, Jamaica. He was taught very early how to cook many traditional dishes of the West Indies by his mother and grandmother through family recipes. He took his interests for cooking further and attended a culinary school in Kingston, Jamaica for training. After graduating he worked his way up through the food industry in Miami, Florida throughout hotels and various restaurants, including the Forge and the Westin Diplomat. Once he got the feel for it, branched out on his own. He owned and operated two successful restaurants in Miami, Cassie's Caribbean Cuisine and Papayas Health Food Restaurant.
Eventually he moved to Hawaii to work on a cruise ship, however his plans derailed post 9/11. He was forced to go back to Miami for the time being. After giving it some thought, he decided that he would rather come back to Oahu because he enjoyed the environment. He returned to settle down and start anew by opening a lunch truck six years ago in 2008. This was the beginning of a long journey of entrepreneurship by beginning a personal business venture.
"I started running my lunch truck and with consistency, perseverance and keeping strong it worked out and then I got this space, and I started my restaurant two years ago. Diners, Drive-Ins and Dives picked me up and we're broadcasting on the show from the Food Network; I have a few recipes on there too. Day by day I take my time and keep moving forward. I try to keep positive."
Through persistence and quality work he has made a name for himself on primetime television recently. His restaurant has been featured on Guy Fieri's Diners, Drive-Ins and Dives TV show. Cassie demonstrated his procedure for two dishes on the show so that viewers could get a bird's eye view of just how precise and delicate he must be with cooking. Through distinct seasoning and overnight marinating, all of the meats he cooked were packed full of flavor.
Guy was fond of his Jerk wings and Jamaican curry goat. "It's delicious," Guy said. "It's tender, it falls right off of the hoof. It's not spicy but super flavorful. It's just that phenomenal." His famous recipe for curry goat is on the Food Network's website with step by step instructions to recreate the delicacy. Chef Cassie also makes special appearances in local events. On the last Friday of every month, the Irie Jerk Truck participates in Eat The Street gathering of mobile food companies in Hawaii.
Chef Cassie takes pride in the grand selection of traditional meals that he whips together. "What's so good about the Jamaican food is the love that I put in it," says Cassie. "I cook with a lot of passion and love so that you can taste all of the flavors from it." The entrees on the menu are suitable for all personal tastes; include soups, vegetarian and vegan meals such as ital stew, chicken dishes, beef dishes, pork dishes, seafood, festival dumplings, fritters, desserts and specialty drinks. Delectable meals such as Jamaican oxtail stew, and ackee and salt fish can only be found at the Jawaiian Irie Jerk restaurant on Oahu at an affordable dinner price.
The restaurant has a unique atmosphere with an authentic Caribbean vibe. Simmonds has a strong sense of culture and speaks in Jamaican Patois. Smooth roots and reggae plays over the airwaves with a television set displaying all of the hottest commodities in Jamaica at the moment. Being a man of many talents, there are also a multitude of paintings throughout the establishment that were painted by Cassie himself.  He sings in spare time and also plays the drums. He also fire dances and practices martial arts as a hobby.
Cassie encourages others to follow their dreams and strive to make it someday. "Keep trying, don't give up. Have consistency," says Cassie. "You've got to be good everyday. You cannot be good one day and then not good the next day. Most people don't see that. So try your best to be good every day and keep your head up." Jawaiian Irie Jerk is located on 1137 11th Ave in the Kaimuki area among the circuit of restaurants on Waialae Ave. It's open Monday through Thursday from 11:30am to 9:00pm, Friday and Saturday from 12:00pm to 10:00pm and Sunday from 5:00pm to 8:00pm.
About the Contributor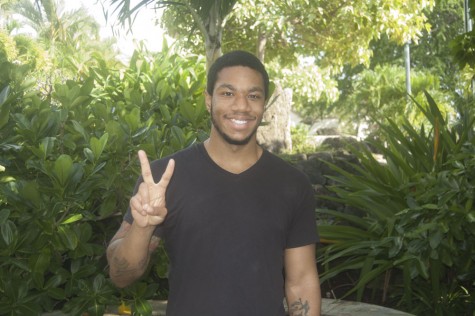 Winston Anderson, Staff Writer
Winston Anderson, a New York native, traveled across many states and waters with high hopes of studying Communications and Psychology in Honolulu, Hawaii,...