Going Vegan
In the past, the word "vegan" has often brought to mind tasteless vegetables like celery and cauliflower. When I decided to "go vegan" for a week, my family and friends showed all the typical stereotypes of what they thought being vegan was about.
"You need meat, you're not going to get enough protein."
"You don't have enough money to buy organic food."
"You love dairy products, what are you going to do?"
I suddenly realized I didn't have a plan for this one-week experiment inspired by a conversation with a professor who is also one of my mentors, Dr. Janet Davison. While going to meet with her about research I did over the summer, she mentioned she had gone vegan. Dr. Davidson seemed so content and happy with her decision; I trusted that I could succeed as a vegan too.
Here is my journal of my week as a vegan:
Day: 1
During class today, I researched "Vegan Basics" and reading through it, I realize my skeptics were right about one of their vegan beliefs. Through cutting animal products out of my diet, I would be missing out on protein, vitamin B12, calcium, and zinc, according to the official website of the Food Network. As far as protein it's going to be hard to convince myself to eat grains and beans instead of meat, but I'll try. Reading all this information about food is getting me hungry, and I try to find my first vegan meal at Chaminade's POD. While trying to avoid the smell of chicken katsu, I find that Chaminade's POD has a new salad bar with olive oils, vinaigrettes and other dairy free condiments, this may be easier than I thought.
Day 2:
This morning I was making coffee and adding milk to it when I stopped myself. My options are now soymilk or almond milk. But is it still going to taste good? Adding soymilk tastes good but it leaves an interesting aftertaste, oh well, coffee is coffee. Grabbing a granola bar I head to work. A granola bar doesn't hold me over very long; before I know it I'm eating practically a whole bag of pretzels and a bag of crackers. Obviously I'm not doing the gluten free vegan plan! Buying a smoothie and acai bowl everyday is going to make me bankrupt, because healthy food is so expensive.
Therefore, I have to change my strategy if I'm going to have any money at the end of the week. This day is ending in a trip to Whole Foods and Times with my friend so I can start cooking my own vegan food.
Day 3:
Not having work in the morning I take my soymilk coffee and go on instagram. Within a minute of scrolling through everyone's pictures, I see one picture of kalua pig, laulau, and a steak plate. Quickly getting off instagram, I go to the kitchen to bake vegan energy bars.  I feel like a scientist conducting an experiment while I watch my first vegan meal bake in the oven.
Finally the moment of truth, after staring at it for a minute my sister and I cut a piece. My sister takes back most everything she said against me being a vegan for a week, and together we finish the entire pan of energy bars. Inspired by how delicious these are, I can't wait to see what can be made tomorrow.
Day 4:
This proved to be the hardest day on my weeklong vegan journey. The day started with my dad offering to make me a bagel. When he asks if I want butter or cream cheese I say "yes," and then quickly say "no." Eating a dry bagel, I realize I should have bought vegan butter while I was at Whole Foods. Later, while at work I asked a Japanese tourist if she needed any help. She shows me a picture of a Morton's Steakhouse ad and said she wanted to go there. Pointing her in the right direction, I then try to forget about how much I want a hamburger. As I sit in the break room later that day moping, my co-worker comes in. He tells me he is vegan and loves his lifestyle choice. He says that he chose to be vegan because he wanted to cleanse his body. He smiles while telling me he has already seen positive results from his diet change, he has been getting comments on how alert he is. I have even noticed that when we work late, he is the one constantly motivating us to keep up our energy. Thinking back, I got more done this week than normal, is this because of my new vegan diet? I'm not certain of this but I do know that this conversation has strengthened my resolve just when I thought about quitting.
Day 5:
Today I woke up feeling lighter and definitely more awake. I decided to make a tofu dish after hearing that tofu was a vegan's best friend. Because I already liked tofu this was easy to eat, all it needed was asparagus, yakitori sauce, and some garlic. Tofu is worth trying for vegans and non-vegans, don't let its reputation as tasteless fool you. I finally learned by today that in order for me to be a successful vegan I have to plan my food and make enough food in advance. Otherwise, the ice cream sitting in your fridge will be too tempting!
Day 6:
This morning I could have eaten leftovers from what I made yesterday but there were none. I can't speak for all vegans but as a vegan I absolutely ate all my food at every meal. Time to try a vegan restaurant recommended to me by Dr. Davidson: Greens and Vines at Kapiolani and Ward.
Day 7:
Today started out like all the others, soymilk instead of regular milk, fruit, granola, etc. Snacking throughout the day, I felt a bittersweet feeling knowing that this was my last day. I was just starting to adjust and get the hang of this vegan thing, while still being on a college budget. My parents were even getting used to the idea of my being vegan.
"We're at the Counter Burger, do you want a veggie burger?," my mom asks. Replying that I do, she says that I can even choose a gluten free bun for my burger. In honor of my last day as a vegan, I say yes. Biting into my burger I finally feel like a true vegan; even my bread is vegan! For something made of just rice and tapioca, it looks like a typical bun. Its grilled and delicious flavor distracts me from the slightly papery texture of the bread. As I finish my burger, I'm thinking of what I'm able to eat tomorrow as a non-vegan, but I'm glad I tried this exciting and different lifestyle change.
About the Contributor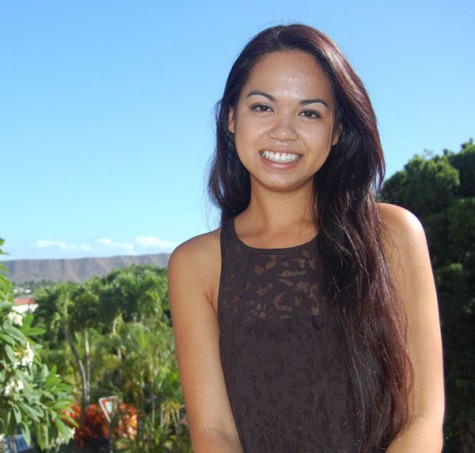 Kanoe Perreira, Staff Writer
Kanoe Perreira was born and raised in Honolulu, Hawaii. She is a senior majoring in Communications with a focus in Broadcasting. Her career aspirations...