CUH sophomore handles ALOT.
Chaminade student Brandon Espiritu has taken a huge step at the age of 19 by deciding to start his own clothing line named "ALOT."
This summer Espiritu who is from Guam and two of his friends, Kai Cryster of Seattle University (co-designer with Espiritu) and Tony Paulina from the University of Washington (handles a lot of the business side of the company) decided that they were done waiting an opportunity and would create their own opportunities by starting there own company.
ALOT. has been instantly successful by bringing in profit from the first release in Summer 2013.  The profit was much more than he expected originally.
"I wasn't even in it for the profit, but from the start the money started coming pretty easy. I even reached my ROI in a couple days which I thought would take weeks," Said Espiritu.
Espiritu said the inspiration for the line rooted from his own depression, feeling that time was passing by and he was making nothing of it.
"Depression is caused by time and how people feel that time causes the end of all good things." He said, adding that the whole brand revolves around living without the consciousness of time.
The name ALOT. is an abbreviation that stands for "A Life Over Time."
He said it was one of those great ideas that just came to him and perfectly fit with the idea of not worrying about time and just living life.
When asked what was the hardest part about starting a brand new clothing line Espiritu said, "To be honest it was actually doing it. Everybody has a an idea and the biggest step is just doing it."
He admitted that he was nervous at the start because of the critics and people who doubted him.
The official logo of ALOT. is the Yen symbol, which is the Japanese currency. "We did not want to use the dollar sign because that is a little played out and cheesy since we are Tokyo inspired, it goes in the brand. It does not mean material wealth, it stands for more of a richness in lifestyle," He said.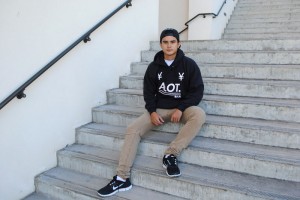 They also use Kanji, which is Japanese writing on their designs to stick with the Tokyo theme and also gives the brand a unique look. Espiritu likes the look of his brand because "None of our designs are something you need an artist to draw, everything is in front of you in the world, its just all about placement and look." He said.
The target audience for ALOT. is the youth and specifically "the youth that is trying to find themselves". He hopes that his fashion line can help people express themselves and even get them into fashion.  He feels what will set his brand apart from other brands is the connection with the consumer.
"What really attracts people is the relation like if I can relate to somebody with the substance of the product, that's what will separate my brand from others," Espiritu said.
Since starting a new clothing line is no easy task Espiritu realizes that he made some rookie mistakes early. Little factors like taking the time to find a low pricing producer effected ALOT.'s profit early. He stressed that patience is key especially when it comes to the use of money, especially starting off because no profit is guaranteed.
The future looks bright for ALOT. clothing Espiritu said in the next year, he wants to have at least five collaborations with other clothing lines around the U.S. and also to get ALOT. in some stores around the country. In five years, he hopes ALOT. will have its own store, whether in Hawaii or on the mainland, as well being a recognized and well respected brand. In 10 years, ALOT. hopes to be international and having its own store in Tokyo.
About the Contributor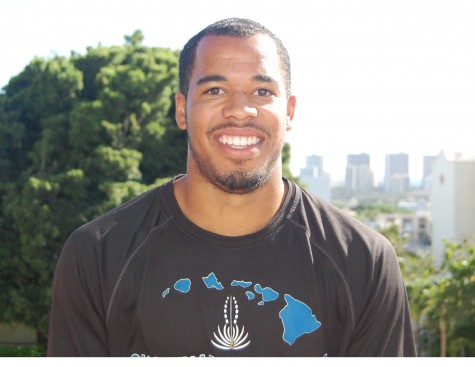 Lee Bailey, Staff Writer
Lee is a junior Communications-Marketing major at Chaminade University from West Bloomfield, Mich. He is a third-year player for Chaminade's basketball...