Top 10: Hidden Cafes
Coffee is considered a college student's best friend, whether it aids them in studying for long periods of time or just waking them up for classes. As a college student who has previously lived in the dorms, I know the appeal of socializing rather than getting homework done. The only time I could truly focus is when I found that place where I could sit and study for hours. Just coffee, my textbooks and me. These 10 cafes are hidden away enough that you can get peace and quiet, a table and, of course, great coffee.
10. JJ's French Bistro
3447 Waialae Ave. Honolulu, Hawaii 96816
This cafe reminded me of Cafe Laufer, not only because it's located in Kaimuki town, but because of its delicious homemade desserts and pastries on display. At this cafe, both your sweet tooth and coffee craving will be satisfied.
9. Anytime Cafe
2919 Kapiolani Blvd. #218 Honolulu, Hawaii 96826
This cafe is more of a restaurant, but because of this, there are many tables inside. Also, if you do get hungry studying, there are all kinds of foods to choose from. The cafe is open 24 hours a day, which makes late-night eating and studying easier.
8. Mocha Java Cafe
1200 Ala Moana Blvd. Honolulu, Hawaii 96814
Although this establishment is far from school in Ward Centers, it's a place to try. There are tables to sit and study, as well as a vast array of coffees to choose from. Although Mocha Java Cafe is located far from Chaminade, my favorite aspect of this cafe would be the feeling of escape it provides from school. This cafe can easily be overlooked in the middle of one of Honolulu's busiest areas.
7. Glazers Coffee
2700 S King St. Honolulu, Hawaii 96826
This cafe is conveniently located on King Street. Therefore, there is a good chance that college students from either UH Manoa or Chaminade can be seen there studying. My friend who accompanied me there said, "the foam from the coffee was powerful."
6. Cafe Kaila
2919 Kapiolani Blvd. Honolulu, Hawaii 96816
This cafe is more of a breakfast place than a coffee shop because of its popular breakfast menu. It's located in Market City and can be identified by its long line during weekend breakfast hours. There are many tables inside if one did choose to study there. Unfortunately, this go-to spot closes at 3 p.m.
5. Sweet E's
1016 Kapahulu Ave. Honolulu, HI 96816
This cafe is located in Kilohana Square on Kapahulu. It also is known for its tasty breakfast menu items. The considerable number of tables inside can be used for study purposes.
4. Cafe Laufer
3565 Waialae Ave. #107 Honolulu, Hawaii 96816
Cafe Laufer is tucked away along Waialae Avenue and appears small. However, once inside, I could see many tables to choose from and unique decor including lighted trees that draped over the center of the cafe. If your studying requires you to stay up for hours, this is the place to go. The coffee was strong, and I left with a jolt of energy. The service was quick and if you did plan on staying there long, the temperature of the cafe was perfect: not too warm, not too cold.
3. Morning Glass
2955 East Manoa Rd 96822
This cafe was quiet, and I enjoyed that it was open and airy. It is nestled in beautiful Manoa Valley just beyond Manoa Marketplace. Morning Glass gives off a "chill vibe" conducive to studying and the coffee is delicious, although their large looks medium sized. You may end up ordering two.
2. Coffee Talk
3601 Waialae Ave. Honolulu, Hawaii 96816
Some Chaminade students may have seen this coffee shop due to its proximity to campus. It's extremely spacious and quiet enough to study in. The coffee has a bold flavor, and my personal favorite is the iced "thai-dee" haupia because of its unique taste and strength.
1. The Curb
1951 East-West Road Honolulu, Hawaii 96822
Located on the University of Hawaii at Manoa's campus, The Curb is hidden away beyond the UH Hamilton Library in a building named Paradise Palms. I suggest walking or catching the bus because you must pay for parking. Inside The Curb, space is limited, but just outside is a shaded, windy area perfect for studying. The coffee is effective but still has a sweet taste. The baristas are also friendly and made the coffee quickly.
About the Contributor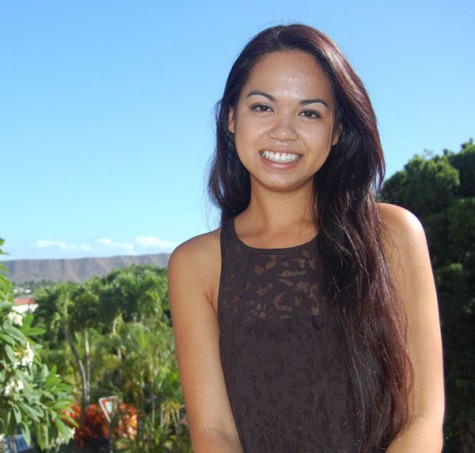 Kanoe Perreira, Staff Writer
Kanoe Perreira was born and raised in Honolulu, Hawaii. She is a senior majoring in Communications with a focus in Broadcasting. Her career aspirations...