New provost is ready to improve Chaminade
Chaminade has a fresh face on the faculty and staff.
With the fall semester going into motion, Dr. Whippy wants to consolidate and improve Chaminade's, academics. Dr. Whippy is honored and proud that she is a part of Chaminade. As the new provost, she has several plans for this and the upcoming semester.
"I have some short-term and long-term goals," she said.
Programs such as Environmental Science, Nursing and Business, she is hoping will go from good to great. These three programs and the rest will get involve into signature programs. Not only that, Dr. Whippy states that there will be program reviews that will improve the program. The short-term goal will be tracking the graduates from the programs.
"One of our goals is that our graduates are employable and they are good for what they do, and that their character is good," Dr. Whippy said You see, that's the advantage you have of Chaminade."
What made Dr. Whippy move to Chaminade was that she was a member of the Western Association of Schools and Colleges (WASC) visiting team for Chaminade from 2009-2010. Dr. Michael Fassiotto was the previous Provost of Chaminade and encouraged Whippy to apply for the position back in October last year. Around spring this year, she received the call that she will be the next Provost for the Fall Semester of 2013.
During the '70s, Dr. Whippy moved to the Pacific starting with Fiji. As the '80s approached, Papua New Guinea was her third home. Then she settled in Guam from the '90s. All of which she used her mathematics degree from the universities. Additionally, in Guam, she became one of the five deans, vice president, senior vice president and the interim president.
"For the past three decades, I've been living in the Pacific," she said. "First Melanesia, Micronesia, now Polynesia."
From her skills as a mathematician, to educational presidency, Dr. Whippy has been serving to the Pacific for three decades and still serving. Proud of what she did in Melanesia and Micronesia, now it's time for Chaminade to take on what the new provost has to offer.
"It is a unique, diverse institution, and that's the reason I'm here," she said, "because it serves Pacific Islanders and Native Hawaiians, and I've done that my entire career."
About the Contributor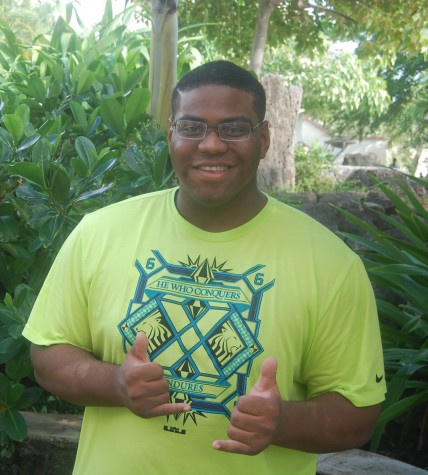 Dray Thompson, Staff Writer
Dray was born and raised from the island of Guam. He is attending his junior year at Chaminade University and pursuing a bachelor's degree in Communication/Broadcasting....