Co-Curricular Awards-Ceremony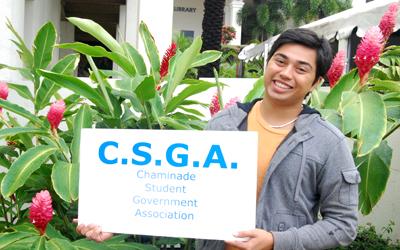 Wednesday night, some of the most recognizable Chaminade students and faculty members gathered together in celebration of the awarded and nominated students in the eighth Annual Co-curricular Award-Ceremony.
Sophomore student, Anthony Selvanathan, a Campus Ministry Liturgy Award winner, said, "This event was a phenomenal experience to celebrate student achievement with such amazing peers."
The university's Division of Student Affairs and Campus Ministry-sponsored event was held in the Clarence T.C. Ching Conference Center. "Chaminade students talking, laughing and joking around in a fellowshipping light shows the love and togetherness of the University," said Christian Kaholokula.
This year Rayna Strom-Okimoto, senior, Softball player, was awarded with the Female Athlete of the Year, and Dominique Cooks was nominated for Silversword of the Year because of his excellence on and off the basketball court. In the Chaminade community, there are plenty of individuals with aloha spirit but the most spirit was awarded to senior, Floresa Santos.
Although all students deserve recognition, sophomore, Kaipo Leopoldino has experienced a special journey to approach the lifestyle he lives at Chaminade today. Leopoldino is the recipient of the Bro. Joseph Becker Award of Excellence for his third straight year. When he's not acting or singing in school plays, he's coaching at Kamehameha High School Speech and Debate team, dancing as a member of the Hawaiian Club, president of CSGA, and other groups. Leopoldino is mainly happy from enjoying his life and talking story with his friends in the Student Loo Center.
Growing up in Big Island, Kailua-Kona, Leopoldino remembers his father coming into his room before bed and said, "Be the best you can be!" Leopoldino said, "He takes that to heart every year knowing that, if you did something last year you can do better the next year."
Leopoldino had chosen to take his father's words to heart. Graduating from Kamehameha High School, then tried exploring his education off island at Portland State University and Johnson & Wales University in Providence, R.I. While Portland State pushed his writing ability, asking him to turn in multiple prerequisite papers. Chaminade interviewed Leopoldino giving him the opportunity to show himself to be a great student.
When Leopoldino was asked, "why he chose to come to Chaminade," he said, "Chaminade University gave me a chance."
Some other award winners were
Alexandra Davis won Tutor of the Year, Chardonnay Pao received the Service Award, Jordan Zizzi was presented with the Retreat Leader of the Year, Genevieve Krier won the outstanding peer mentor award, and Brittany Torres, a 4.0 student transferring to Duke University in Fall 2013, received the Dean of Students Special Recognition.
Leopoldino doesn't have any time to sit down and admire his accomplishments after the awards ceremony. He said, "I have to continue focusing on the what my goals and finishing school on the best note possible."