Award-winning documentary filmmaker teaches at CUH
Few people are able to walk into a room and exude so much happiness that it affects everyone around him.  Daniel Skaf is one of those people.  Originally from Sao Paulo, Brazil, Skaf, a communications professor, has brought his passion for filmmaking and teaching together for the benefit of the students of Chaminade.
"He has a really good spirit," said Suse Simoes, a senior majoring in communications.  "He brings out this positive vibe.  Every time I am around him, it is a better day."
Skaf, who teaches introduction to communication, intercultural communications, video production and social multimedia production courses at Chaminade, also wears quite a few other hats.  As well as being a professor, he owns two video production businesses, helped found a consulting firm called Brazil Hawaii Business Connection and is a husband and father.
Skaf grew up in Brazil.  He attended university there and studied civil engineering for two years.  When he was 19, he traveled to Hawaii.
"I grew up surfing in Brazil, and I always wanted to travel abroad to surf and I thought Hawaii was the best place in the world, so that's where I'm going to go," Skaf, 38 said.  "So when I came here for the first time I fell in love. I was like, 'I'm never going back.'"
After returning to Brazil from his trip to Hawaii, Skaf decided he needed to find a way to live here.  He came to the conclusion that being a student would allow him to return to Hawaii, so he transferred his credits from his college in Brazil to Brigham Young University – Hawaii.  While attending BYU-Hawaii, Skaf majored in international cultural studies.  During an internship his senior year with Olelo, BYU-Hawaii had received a grant from the Kellogg Foundation to build a 57-foot double-hulled voyaging canoe out of wood.  Skaf took advantage of the combination of the school building the voyaging canoe and his internship at Olelo to direct a documentary entitled "The Birthing of Iosepa."  After graduating from BYU-Hawaii, Skaf decided to get his master's in film production from Chapman University.
"[I pursued a master's degree] so I could have my passion of filmmaking and teaching at the same time," Skaf said. "It was a good combination."
One of Skaf's video production companies also produces promotional videos for Chaminade.  His last project was for the admission's department and was called "Beyond the Classroom."  These videos profile five students at Chaminade and showcases how these students' experiences outside of the classroom help shape their future careers.
Skaf's relationship with the Brazil Hawaii Business Connection is primarily altruistic.  He wants to develop a working partnership between Honolulu and a sister city in Brazil, hoping to be able to cultivate this relationship to improve communication and trade between Hawaii and Brazil.
Skaf's first production company, Hawaii Sports Productions, focuses on highlighting Hawaii high school athletes to prospective colleges.  The portfolio videos his company produces have brought more than $3 million in scholarship funds to Hawaii families.  His second company, Hawaii Video Pro, concentrates on promotional videos for businesses, which include Chaminade.
On top of all of Skaf's professional and family commitments, he still finds time to hit the water.  He still surfs Waimea on big days when he has free time or he is between projects.
"He is able to lift you up and that's important," Simoes said.
"I love teaching at Chaminade," Skaf said.  "I fell like this campus is my favorite campus. I love the camaraderie … Among students … among faculty.  I think it's a very tight campus."
About the Contributor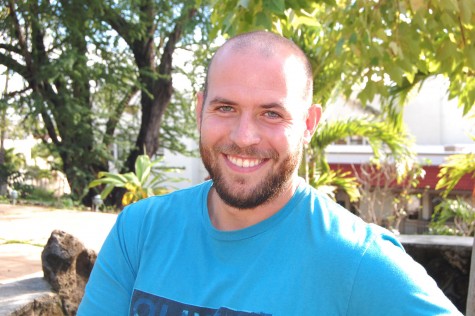 Rick Pefley, Staff Writer
Rick Pefley was born and raised in Detroit, Mich.  He is a junior majoring in Communications with a concentration in Marketing.  After being released...