CUH students enjoy Zumba's saucy dance moves
Fast-paced rhythmic music matched with loud clapping and rapid hip shaking dance moves put smiles on Chaminade students' faces while they mirrored Zumba instructor, Chanda Park's saucy and energetic Zumba choreography at 7 p.m. on Monday, March 18. Park's class danced as they sweat their hard day away in the Loo Center.
"I started work at 7:15, this morning, and straight through to 5:45. That was my day and of course I'm coming straight here," said Park trying to catch her breath right after teaching the Zumba class. "By the end of the day, you are tired. But you get to the warmup and maybe the second song and then the energy just hits you."
Six Chaminade students gathered in the Loo Center of Ching Hall to work out their stress away through a Zumba fitness class. Park led the small intimate class along with her two daughters. Although the class was small, the dance moves were hot and spicy with loud, up-beat Latin music.
"I always tell my class 'Don't be shame,' because moving the hips is actually a really good workout, and the more you exaggerate the move, the more of a work out you'll be getting," Park said. "So you can keep it small but you're not burning as much calories as when you make it really big."
With the exception of Park's two daughters in the class, it was obvious that the class was full of beginners. Even though some students got lost throughout the chorography, many laughed it off and continued to shimmy their bodies in order to get an intensely enjoyable workout.
Office of Student Activities and Leadership offers a variety of health and fitness classes as a part of its Health and Wellness program. Zumba is a new class that has been offered to students since Fall 2012. According to Desiree Yamase, a graduate assistant of OSAL, Zumba was one of the most requested classes from past surveys.
For some students like Starr Benson, a sophomore at Chaminade University, who already has a regular workout routine, Zumba is a fun alternative to her boring Monday running workout. Benson admits that she is a fan of the Latin and reggaeton music that is used in Zumba.
"I grew up in Los Angeles, so I was surrounded by Hispanic culture and music and I feel like I developed a taste for all of that," Benson said. "Basically, I developed the taste for Latin culture and music."
For other students, like freshman Kanaloa Ducosin, Zumba is another way of getting healthy and fit. Although some dance moves may be difficult, Ducosin said he keeps coming back to classes because he wants to learn the from the challenging dance chorography and to have fun while working out.
Whether Chaminade students want to find a great alternative to their weekly workout schedule or trying to start a new healthy habit, OSAL offers a diverse assortment of classes part of its Health and Wellness Program. OSAL will hosting one more Zumba class in spring semester on Monday, April 15, in the Loo Center.
About the Contributor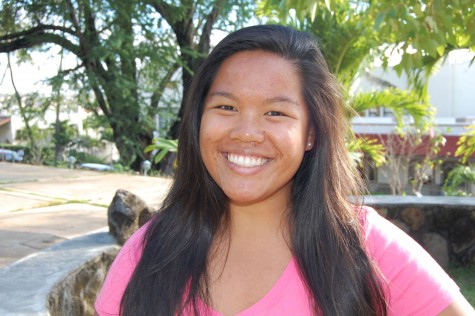 Mariah Villanueva, Staff Writer
Mariah was born and raised in Kapolei, which is informally known as the "second city." She is a junior and majoring in Communications in Marketing. After...