Inspiring others through kindness
Celina Eklund, 18, noticed that her waiter was having a bad night. He was messing up drink orders and mixing up food orders. Feeling his frustration, Eklund, a teenager from Schofield Barracks, decided to give him a $5 tip on top of what her family gave him.
"I felt bad," Eklund said. "Everyone has bad days and I just wanted to do something that would brighten up his night."
While waiting in line at McDonalds, Brandi DeCosta, 23, saw three high school kids counting up the change they had. When she got to the counter, DeCosta told them to order whatever they wanted to eat and the tab would be on her. Feeling uplifted, she told the kids that in return she wants them to return the same gesture of a random act of kindness to someone else.
"Giving to others always left this sense of happiness and satisfaction that nothing else could give me," DeCosta said.
This whole notion of "paying it forward," or random acts of kindness, has been around for years, inspiring John Ulep, a man filled with passion to serve God through serving others. Ulep, popularly known as "Jon Jon" put together a movement in March called the "Random Acts of Kindness Project." He wants to motivate people to do good toward others.
"The Random Acts of Kindness project is helping to restore what little faith we all have left in humanity and teaches us that we can all give to each other, no matter how big or small, and our random acts of kindness can ultimately be the change that this world needs," DeCosta said.
While scrolling through Instagram in December, Ulep noticed a posting by a friend. His friend was having a meal with his family but when it came to the bill, instead of receiving the check, he received an anonymous note. The note stated that the stranger admired his family because the stranger missed his or her own family. The only favor asked for in return was that Ulep's friend would pass on the same kindness to another. Since then, Ulep has been finding every opportunity he has to share kindness to people he doesn't know.
Ulep has been an active member at Saint Josephs's Church in Waipahu for the past 14 years. Through his powerful life lessons and stories, he has inspired many teens to stay actively involved with the church. He is also involved with other parishes such as Saint John's Apostle and Evangelist Church in Mililani. Moani Gabriel, a youth leader at Saint John's, was encouraged by Ulep to continue with her faith journey and to inspire those who are starting their confirmation faith.
"He was always super spiritually nurtured, and I think it really showed his commitment." Gabriel said. "He always tries to give back, which I think show his selflessness."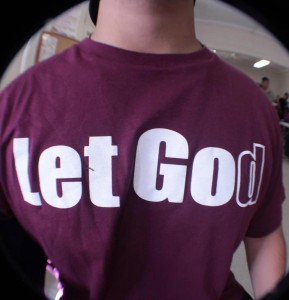 Interested in starting his own business, Ulep used his faith as a motivation to start of his own business called "Glorified Apparel." In November 2011, Ulep started to launch his business but it didn't take off until August 2012. He started off with making stickers with religious sayings and now he has progressed to offering tanks, t-shirts and pins, each tacked on with a spiritual aspect. He sells shirts that say "Let God" across the chest and his tanks has the saying "Tank God Ev'ry Day."His business is about doing good and sharing God. For every shirt that they sell, he provides a meal to those who are in need, either at a shelter or live on the streets.
Ulep's first food drop happened in November. With the help of MSG. Rico Pascua, who provided a place to prep, extra food and hands to cook the food, the entire Pascua family helped to make Ulep's food drop a success. Pascua, the Senior Food Service Non-Commission Officer, along with friends and family, helped to package the food for Ulep's first food drop. They successfully provided close to 200 meals for their first food drop. Totaling up the meals from his first and second food drop, Ulep has been able to provide over 400 meals to the less fortunate. Since then, many friends and businesses have been contacting Ulep to find ways in which they are able to help provide food and working hands. A portion of the money is used to help out community service projects he puts together.
As his business started to take off, he decided to launch the "RAKP" as a way to support his clothing line. Through social media, such as Facebook and Twitter, and with the help of friends, Ulep was able to get people motivated to share kindness with strangers.People can place their orders online.
Getting involved with Ulep's project is simple. Do a random act of kindness to a stranger and leave a note to the stranger encouraging him or her to pass on the same gesture. Post a picture of the act of kindness done and use the hashtag "randomactsofkindnessproject" or "rakp2013." People can also follow the movement by liking his Facebook page and his Instagram account.
"I hope that this movement inspires others to find ways to help one another," Ulep said. "To help those we don't know and to be kind to others. To help others find ways to make someone's day a little brighter because you took the time to make someone happy, even if it was just a brief moment."
About the Contributor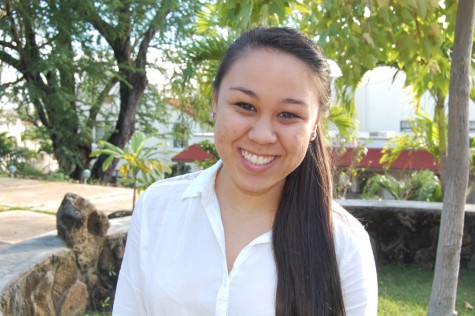 Victoria Barayuga, Staff Writer
Victoria Barayuga, born and raised on Oahu, currently studies at Chaminade University and is majoring in Communications Marketing. If she's not working,...