KCC farmer's market is the place to be on Saturday mornings
Eating out and trying to eat healthy can be expensive, especially as a college student. I was given the task to go the farmer's market at Kapiolani Community College with a maximum amount of $20. I could buy fruits, vegetables or food as long as it didn't exceed the amount I had set for myself.
Instead of going by myself, I asked my roommate, who is an exchange student from St. Mary's University in San Antonio, Texas, to come with me since she is only attending Chaminade for the semester. We were both eagerly excited to go and check out all the different vendors and food. Many of friends have told me about the KCC farmer's market, but I never actually thought of going. Living in California, there are numerous farmers' markets happening. I have gone to a few but never took interest in them.
I was highly advised to arrive at KCC early because it gets crowded fast and tons of people from the island come to this farmer's market. So when my roommate and I arrived there at 8:30 a.m., about an hour after it opened, it was already crowded. People were everywhere. Tour buses and city buses were packed with people waiting to be dropped off and shop.
My roommate and I felt so overwhelmed by the number of vendors and the variety of food being sold that we didn't even know where to start. So we made a plan of walking around one time and seeing everything so that we didn't miss out on anything. Then if there were something we wanted, we would go back and buy it.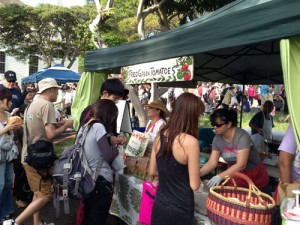 My roommate and I had more intentions of buying food than the locally grown produce. We were so distracted by the amazing smell of the numerous foods. I wanted to buy everything and eat all day. I liked that some of the vendors gave out samples of their products – like yummy artisan breads lilikoi butter – before customers could decide whether or not if they wanted to buy from them.
A vendor I thought had interesting food was the Marine Agrifuture. The company offered samples of aquacultured sea asparagus, limu and ogo (seaweed). It also showcased this amazing pesto sauce. Since I am not a picky eater, I was tempted to try it and so was my roommate who had never tried any of those foods before.
"I have never eaten pickled seaweed before so it had an interesting taste," said Brittany Talamantes, 21, an exchange student from St. Mary's University. "You don't usually eat this type of food in Texas, so I get excited when I try food I would never eat back home."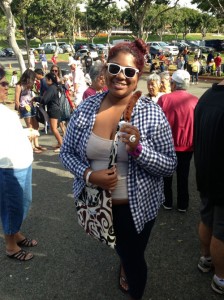 After finishing our first tour around around, we finally decided to start buying food because we were starting to get hungry. I spent a total of $19.50; here are a few of the places I bought from:
PacificKool: Island Ginger Ale, Hawaiian and Thai Ginger Syrups – $5.50
I really wanted to try a drink from here because I love ginger. So I bought a mixed berries and ginger drink. It was different but very refreshing. I highly recommend these drinks if you are a ginger lover.
Kukui Sausage: Original and specialty sausages – $4
This vendor had one of the longest lines so that was the sign to try one of the sausages. There were so many flavors to choose from, but I have been on a pineapple crave lately, so I tried a pineapple sausage. It was sweet and tasty.
North Shore Farms LLC: Pesto pizza – $7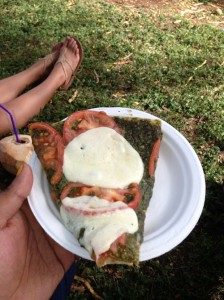 This was the first food my roommate and I saw when we walked to the market, and we were determined to try it. The vendor made the pizza on the spot, and it contained all fresh ingredients. It had pesto sauce, topped with mozzarella cheese and slices of fresh tomatoes. It was so delicious that I wanted to buy another one.
The KCC farmer's market is the place to be on Saturday mornings (from 7:30 a.m. to 11 a.m.). It was such a fun experience that all my friends want to go now. Since we didn't get to try everything, my friends and I are going this weekend to try the famous fried green tomatoes.
If you don't have anything to do on Saturdays, head over to KCC. Be sure to get there early to avoid standing in long lines and if you are driving. If not, taking the bus is an easy way to get there as well.
About the Contributor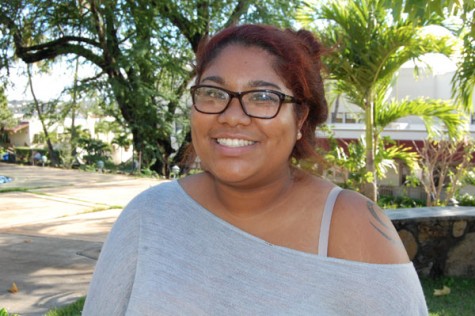 Tawnee Janae Rollerson, Staff Writer
Tawnee Janae Rollerson, a California-born native, is originally from Milpitas, CA. She graduated from Archbishop Mitty High School in San Jose, CA.  Tawnee...