Top burger joints in town
There are a numerous amount of burger places on Oahu but the following three stand out for good reasons. Out for a quick bite or craving a quality burger, don't settle for McDonald's or Burger King. Instead give your body the true satisfaction it deserves.
The Counter
The Counter in Kahala Mall is the modern burger joint. Featuring large flat screens, modern décor and a young, hip atmosphere. The Counter boasts about offering over 300,000 burger combinations to meet every customer's preferences. Stop by for a burger and grab a drink at the bar or have your drink with a burger in a bowl, which is a great alternative for those avoiding bread.
The uniqueness of The Counter is the ordering process. Instead of the waiter asking a series of questions, simply fill out the checklist menu and make your order completely custom. There is a list of "signature burgers" for the indecisive type.
The Counter's $6 shake will lighten your pocket but make up for its rich, creamy texture and counter the salty burger.
The Counter is located at Kahala Mall next to Whole Foods Market. For more information go to The Counter website.
Teddy's Bigger Burgers
Teddy's has been doing it right for the last 15 years. Their focus was to maintain a classic environment and provide people with quality burgers. Upon entering customers are encountered with a retro interior and music bringing people back to the era of burger joints.
Teddy's offers its burgers in big (5 oz), bigger (7 oz) and for those hungry customers, biggest (9 oz).
The secret to Teddy's is the sauce. It's a mixture of sweet and tangy that complements the burger perfectly. Another winner is the teriyaki sauce, which is made from scratch and goes great with the fries. Speaking of fries, go for the Cajun fry upgrade.
Teddy's has six locations around Oahu and more coming soon. Go to the website for more information.
W&M BAR-B-Q Burgers
W&M started in 1940 the same year McDonald's also opened its doors. More than 70 years later and not much has changed though at W&M. The magic that has kept this institution going so long is its secret barbecue sauce and devoted staff. W&M might be one of the only original fast-food burger joints left.
W&M offers three types of burgers. The Plain BBQ hamburger comes with just a bun and a patty. Next is the Deluxe, which comes with lettuce, tomato and onion. Finally is the Royal, which includes all of the following plus cheese. Simplicity tastes good too.
W&M offers a one size and type of fries but quality is the its focus. The fries at W&M are the right size, shape and consistency. They are crunchy, but not overcooked and just the right amount of salt.
Instead of settling with subway or the cafeteria for lunch, enjoy a classic W&M Royal with cheese.
W&M is conveniently located at the bottom of Chaminade.
Although any of these Burger spots would satisfy a burger craving, I would have to say that Teddy's would be my go to spot. The consistency, service, convenient locations, special sauce, options and overall quality makes Teddy's a hard to beat burger.
About the Contributor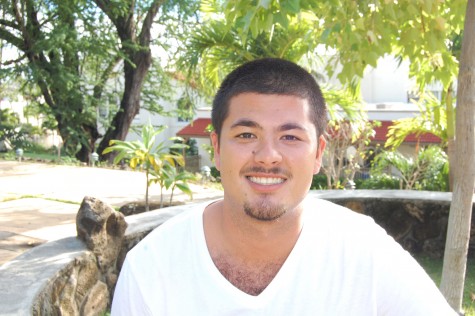 Joe Wakazuru, Staff Writer
Joe Wakazuru is originally from Seattle, Wash. He moved to Hawaii in middle school and attended Mid-Pacific Institute.  He is a senior at Chaminade University...