College students' tsunami kit of fun
This past October those alarms rang once again, warning the state of Hawaii of a potential tsunami coming our way. Yet the highest wave that hit was on Maui and it was only 2.5 feet.
Everyone knows that when the alarms go off, you should have your supplies ready for any type of natural disaster. These kits normally consist of several weeks worth of bottled water, canned food, a flashlight, candles, radio and batteries.
On the other hand, a college student's kit would be filled with things that don't make much sense and wouldn't be seen as useful to others. Here is my fun-filled kit to entertain the college student.
• Drinks: soda, juice, sports drinks, 21-and-over beverages.
• Snacks: When you start getting the munchies: chips, dip, cookies, beef jerky, top ramen (local style), candy, Vienna sausage, ice cream.
• External Phone Battery: In case the cell phone battery runs out of power from texting friends snarky comments and Instagram, there's another one to put into it.
• Board/Trivia Games: To keep yourself entertained if the power goes out, Twister, Monopoly and Dirty Minds.
• Deck of Cards: Poker, Black Jack, 52 Pick Up
• Floaties: If the tsunami hits, it can keep you and your drink afloat with an inner tube, noodle, chair or bed.
• Sports Ball: To play with if you start going stir crazy (football, basketball, volleyball, soccer ball).
• Protection Device: A slingshot to protect yourself from people going onto your property or zombies and flares to scare away wild animals or homeless people.
• Waterproof Phone Case: If in the end your phone gets submerged in the tsunami water, it will still be ok to use.
• Boom Box/Fully Charged iHome: To listen to music on phone, iPod, radio or CD.
If you feel like some music is needed to fill that void in your life or for a tsunami party, listen to this fun, weird and random playlist.
Tsunami Playlist:
• The Tsunami Song – Frank DeLima: This song is about how everyone rushes to get items for the tsunami and in the end it doesn't make an appearance.
• My Heart Will Go On – Celine Dion: What better way to celebrate our demise than by re-enacting Jack and Rose's front-of-boat moment?
• Floods – Fightstar: This is what's coming for you!
• Rock The Boat – Hues Corporation: Imagine sitting in one of those boats out in the water after the tsunami warning went off, the wave probably only rocked the boat.
• Here Comes The Sun – The Beatles: The beautiful sight you see when the alarms go off and end; got to love the alarms.
• I Can See Clearly Now – Johnny Nash: Yes, rain is probably all that we'll get.
• 2012 – Jay Sean ft. Nicki Minaj: Oh no, the end of the world is near.
• It's The End Of The World As We Know It – REM: Great song to think of when you're close to you're demise, makes you all warm and fuzzy inside.
• Good Bye Cruel World – Pink Floyd: This world is cruel, Hawaii is paradise nothing hits paradise!
• Goodbye My Lover– James Blunt: He is so irritating; he makes you want to jump into the tsunami.
• Save Us – Cartel: Someone come and save us! The "real" tsunami is coming!
• In The Arms of An Angel – Sarah McLachlen: Want to think of something sad? Think of those puppies from the humane society commercial.
About the Contributor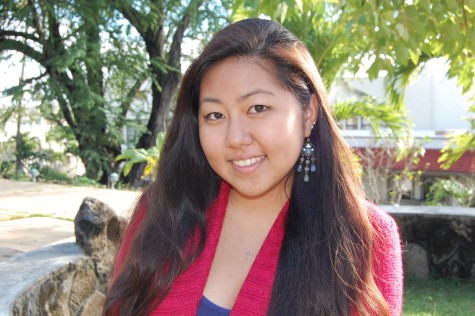 Keri Lynne, Staff Writer
Keri is a Communications Broadcasting major and an Environmental Studies minor. She works as a reservationist at Hawaiian Parasail, where she spends all...