Christina Linares, the next 'estrella' on campus
Out of curiosity, Christina Linares decided to take a look at the Miss Latina Hawaii Scholarship Pageant. After her first orientation, she embraced the opportunity of being able to represent her Latino roots throughout Hawaii.
Linares is a proud Mexican from Los Angeles. She moved to Hawaii to attend Chaminade University, where she is now a junior majoring in Biology and is part of the Hogan Entrepreneur honors program.
"People are so in tune with their culture here in Hawaii, just like I am and just like my family is," Linares said.  "And I'll be able to portray that being a Latina."
With her busy schedule, she has drifted from her passion of dancing. She is part of a dance crew at home, where she enjoys dancing Folklorica Mexicana, a Mexican Folkloric dance and a big part of Mexican tradition. Now, she has an opportunity to show off her talent during Miss Latina Hawaii and feel connected to her roots despite the distance from home.
"It's reminding me that I am a Latina, and that my roots aren't lost," Linares said.
The Miss Latina Hawaii Scholarship Pageant, which will be held on Feb. 9, 2013, is a preliminary for the Miss Hawaii Pageant and the Miss American Organization. Most importantly, the winner gets a scholarship of $10,000 to Argosy University.
The pageant is split into five sections, where judges keep score of each contestant. The sections are: a personal interview, talent, lifestyle and fitness swimsuit, eveningwear and onstage questions.
Although Linares's family is in Los Angeles, she is getting support from them and also her friends and mentors at Chaminade University. She had a fundraiser during Halloween night at On Stage Bar, where Chaminade students showed their support by buying Mexican food and listening to soulful Latin music.
Venus Ituralde, the director of Resident Life on campus, believes in Linares and her potential of winning Miss Latina Hawaii.
"She has a great heart and is hard worker," Ituralde said. "She's overall a great person."
Ituralde met Linares at Chaminade, when she applied and got a summer job as a RA. Linares brought the pageant to her attention, while having a few doubts if she was ready. Ituralde believed Linares was ready for it, especially because it is a scholarship pageant.
"She's beautiful," Ituralde said. "I think she is also really intelligent; whatever question they ask, she will be able to answer."
The pageant will take place at the Mamiya Theater on campus. Linares will be selling tickets soon.
A Chaminade student with strong beliefs, potential and motivation can be representing the Latino community in Hawaii.
About the Contributor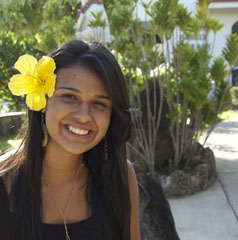 Suse Sampaio Simoes, Staff Writer
Suse is a senior at Chaminade studying Communications (broadcasting) and Political Science. She was born in Bahia, Brazil, where her passion for dancing...