Late-night eats in Honolulu
Looking for good food at a late hour is a constant battle for college students. Many succumb to eating at the most accessible places like McDonald's or Zippy's. The food there isn't that cheap, though, and the portions have even decreased at McDonald's because of health problems.
Honolulu might not have an In-N-Out Burger or a White Castle, but scattered around town are some places that many people look over, which are inexpensive and have unique menu options that aren't found anywhere else. For those in search of affordable and quality late-night spots, check these out and say goodbye Zippy's chili.
Imagine walking in to a diner, but being welcomed with a young and hip atmosphere. Classic booths, a jukebox, movies playing on a projector and tasteful music coming through the speakers give this place a unique vibe.
Indulge yourself with The Downbeat Diner & Lounge's Mega Moco. With double the eggs and double the meat this loco moco will surly satisfy all.
The Downbeat Diner & Lounge offers every item on the menu as a vegetarian or vegan option. It's common to see someone eating a vegan burger and kicking back shots after.
Finish the meal up with apple fritters or a brownie ice cream sandwich. Yes, that means a hunk of ice cream between two not-so-small brownies.
The Downbeat Diner & Lounge located in Chinatown is open until 4 a.m. on Friday and Saturdays and an oasis for those stumbling out of the clubs on Hotel Street.
Home Bar & Grill is located on Kalakaua Avenue, a few stores mauka (toward the mountains) of Kapiolani Avenue.
From the outside, the place appears questionable and the immediate neighborhood isn't the most pleasant, but inside customers are welcomed with a large bar, flat screen TVs on almost every wall and the wonderful aroma of steaks and garlic chicken on the grill. Remember the old saying "it's what's on the inside that counts." Well, Home Bar & Grill makes up for its unpleasant appearance.
The menu at Home Bar has something for everyone. Try one of the Asian fusion dishes like the kim chee poke or the wafu steak, and this may not be original but Home Bar offers tater tot nachos. Taters are great alone, but covered in nacho cheese and salsa is just too good to be true.
Home Bar is open from 2 p.m.-2 a.m. but on Sundays doors are open at kick off during football season.
Gourmet and higher class don't usually go along with food choices for college students, although Yanagi Sushi on Kapiolani offers a late night special that can fit most budgets. While in Hawaii for school this would be an easy place to miss. So go out of the comfort level and enjoy.
The menu is pupu style, but the portions are generous. The salmon skin salad is great for the calorie-conscious ladies and only sets back the broke college gentlemen $4.
The menu also offers specials on drinks so enjoy some hot or cold sake while there.
Combination meals are available for under $10. This is a steal because regular price is twice that.
The late-night special goes from 10:30 p.m. to 2 a.m. Monday through Saturday.
J.J. Dolan's isn't just another Irish pub. It is one of the top pizza places in Honolulu, if not the best. The simplicity of it and quality ingredients sets this place apart. Watch as the oil pours off a slice like it should on good pizza. Not a place for those that like to blot their pizza with napkins. It's not a stain on the carpet people.
J.J. Dolan's offers a full bar as well and open seating, a good way to start or end the night.
The pub is located across from the Hawaii Theater in Chinatown on Bethel Street and open from 11 a.m. to 2 a.m. Monday through Saturday.
The list of reasonable, nice atmosphere and quality food restaurants open late goes on. Settling with McDonald's drive thru should only be resorted to in times of famine and other extra-ordinary circumstances.
About the Contributor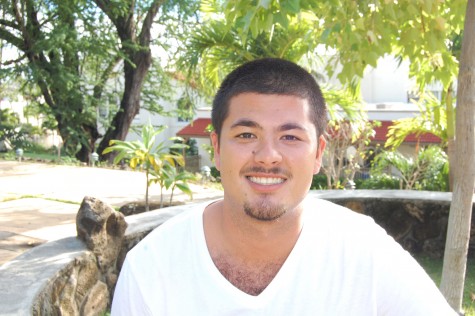 Joe Wakazuru, Staff Writer
Joe Wakazuru is originally from Seattle, Wash. He moved to Hawaii in middle school and attended Mid-Pacific Institute.  He is a senior at Chaminade University...