Domo Arigato Mr. Roboto
Known for its hip fashion, exquisite food, modern lifestyle and respect for tradition, Japan is by far one of the most interesting and highly regarded places to cross of the bucket list and visit. Yes, it's the sushi capital of the world, but there is definitely more to the Land of the Rising Sun than noodles and rice.
Interested in some sight seeing and extreme culture exchange? Here's a quick review of my visit to Japan and some of the coolest places to check out.
Tokyo is an avant-garde and provincial city of bright lights, bizarre fashion, high- tech electronics, large shopping complexes and much more. But Tokyo is also immersed in deep history and tradition with shrines, temples, museums and other popular attractions.
Unfortunately my stay in Japan was entirely business oriented, but who's to say that you can't mix business with pleasure.
On my first free day, I took the opportunity to explore a highly raved about area in Japan, Harajuku. To get the full experience of being in Japan, I thought it wise to travel like most of the Japanese: train.
Normally I wouldn't consider travelling by train, but I discovered that not only is it the cheapest and most convenient way to travel, it's also one of the safest. So safe, it's even considered children friendly.
The moment I stepped off the train was like walking onto the set of Gwen Stefani's popular music video "Bananas." Young adults paraded in their best and most fashionable attire as if it were just another typical day in Harajuku.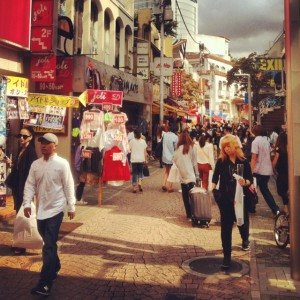 Stores and venues selling an assortment of items bombarded the side streets. Corner eateries provided delectable snacks for locals and visitors alike, and the only possible walkway was a narrow alley consumed with wallet ready purchasers weaving their way between the oncoming traffic of people.
For a bite of fashion, Harajuku is the one- stop shop.
We've all seen the "Fast and the Furious: Tokyo Drift" and caught maybe one or two episodes of ANTM's (America's Next Top Model) third season. What's the one factor they have in common? The city of Shibuya. Shibuya offers a night- life so spectacular and exciting, you'll never
want the sun to rise.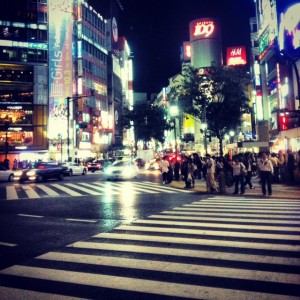 Like Harajuku, Shibuya crawls with young, hip and very fashionable college- aged students. Popular for its multiple crosswalks and known to be the busiest pedestrian intersections in the world, a night in Shibuya is definitely one to remember.
Bright lights on metropolitan buildings promise a good night. Bars, shopping complexes and pachinko venues can be found at every turn. You name it, Shibuya's got it. But don't let all that fun distract you; with the blink of an eye, you could be swept out in an ocean of people and lost for majority of the night.
In a city called Shinjuku, there are several side streets that go by the name of Kabukicho. Kabukicho isn't like Hajuku or Shibuya. Essentially this area offers a little bit of adventure, danger and of course, fun. Considered the "red light" district, Kabukicho is run entirely by powerful underground figures known as Yakuza (Japanese Mafia).
Prominently known as a gambling district and distinguished for it's adult entertainment, the side streets aren't the best places to cause public disturbances. However, the experience alone is gratifying and quite exciting.
With all the action Tokyo offers, it's never too late to get online and book your next trip.
About the Contributor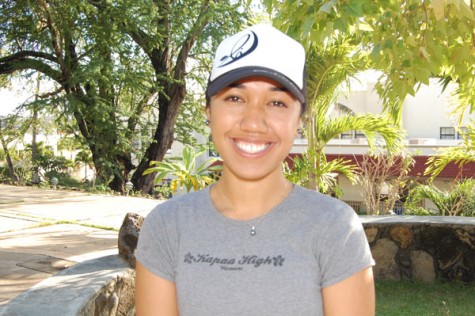 Lei Ui Kaholokula, Staff Writer
Born and raised on the island of Kaua'i, Lei U'i Kaholokula aspires to take her education in Communication and Mass Media to greater heights and become...