Are You Afraid of the Dark?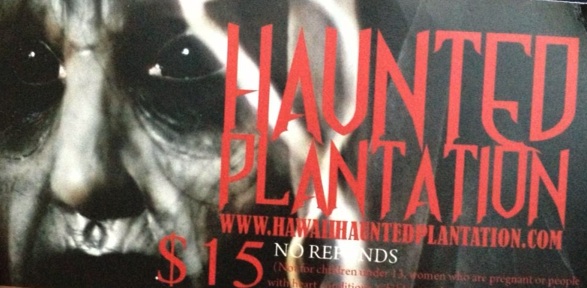 Throughout the year, Waipahu's old plantation village offers historic insight and guided tours to the grounds once inhabited by different cultured plantation workers. But for ten nights in October, guests can enjoy a haunting tour through the property as it hosts its annual and highly acclaimed Haunted Plantation.
"Last year was really scary," said returnee Jenn Laganse, "but I saw the trailer for this year and they added way more characters."
Each year the Haunted Plantation advertises the upcoming event by leaking a 2-3 minute trailer bound to ignite sensations so thrilling. Last year's trailer featured ghoulish plantation workers, obake women (faceless Japanese ghosts), Aswang (Filipino vampire) and a slavemaster's ghostly bride. This year is raved to be better than the previous year's, adding even more terrifying characters to the mix.
Another part of the haunted venues allure comes from the fictional stories and horrific tragedies that is believed to plague the old village.
"I honestly think that place is haunted," said Chaminade student Ashley Mae Augustin. " There were so many different cultures there and when they came, they each brought their own superstitions."
People of all ages come from across the island waiting hours on end just to get their fill of ghostly scares.
"The lines are the worst," said Chaminade graduate Angel Yandall. "Be prepared to wait for at least four hours, and that's with getting there early."
Guests can purchase general tickets for a total of $15 as soon as they arrive at the Plantation. However, for an additional fee of $5 the event sells "fast pass" tickets that bypass the general admission line saving people a wait by at least two hours.
"I didn't really mind the wait," said first time goer Malili Toailoa. "It kind of adds to the suspense."
What makes the Haunted Plantation so unique are the series of cottages guests pay to wander through. On- coming tour victims are welcomed by bone- chilling screams echoing through the houses. The sound of haunting music and crying babies send chills up your spine. All the while, characters crawl on the pavement contorting their bodies in unimaginable ways between cottages preventing further progress to the next phase of haunted homes.
"I thought it was pretty cool how they utilized already existing cottages," said Chaminade junior Genevieve Krier. "And just when you think it's over, you realize you have three more houses to survive."
Volunteers made use of every inch of the plantation village giving guests a run for their money. By the end of the night guests are bid farewell with a massacred faced plantation worker running tourists to the exit with a revving chainsaw in hand.
This year celebrates the seventh consecutive and successful year of the haunting tours. Last year, the Haunted plantation was voted sixth scariest haunted house in the nation, according to Matador magazine. This one stop shop of hosted scares and fun turns the most frightening nightmares into reality.
Straddling the line between superstition and celebration, the Haunted Plantation will definitely deliver a spine-tingling tour.
About the Contributor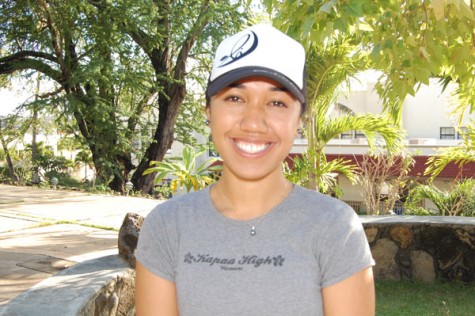 Lei Ui Kaholokula, Staff Writer
Born and raised on the island of Kaua'i, Lei U'i Kaholokula aspires to take her education in Communication and Mass Media to greater heights and become...