10 cheap, easy DIY Halloween costumes for the poor college student
It's that time of year again. With pumpkin spice lattes, candy corn filled oreos and delicious apple cider. But have you been too busy studying for midterms to get your Halloween costume for this year? Or are you just on a college student budget right now? Either way, I have your solution: How about this year you make your own costume? It's cheap, quick and you get exactly what you want, since you are the one making it.
"One year I made a batman costume by myself," said Chaminade junior Breanna Carlow. "I googled the [Batman] logo and cut one out of fabric and pinned it together and used the rest of the fabric as a cape. I just wore a black sweatshirt and black leggings with it and that was it, but I would totally do it again!"
Here are 10 costume ideas that are easy and poor college student friendly:
1-Harry Potter (guys and girls): This costume consists of clothes you already own: a white-collared button down shirt, black pants and a gray v-neck sweater. The only part you'll need to buy is the yellow and red striped scarf, which you can currently buy on amazon.com for $5.38. Also buy some cheap face paint and you can just draw your circle-shaped glasses and your lightning-shaped scar on your forehead. Just go grab a twig off a tree and you'll have your wand too.
2-Lumberjack (guys and girls): This costume should also be composed of clothes you already have. If you have a flannel shirt and jean shorts, you are set! The only other part of the costume you'll need is the fake ax, which you can buy on amazon.com for $3.59.
3-Batman (guys and girls): Like Carlow mentioned earlier, this costume is easy. You'll need a black sweatshirt/T-shirt and black leggings. Then simply go on your favorite search engine and print a picture of the batman logo. You can either tape that picture onto your sweatshirt or you could copy the picture onto some felt, which you could pick up at a craft store. The felt makes the logo look more realistic, but it is your costume and your choice.
4-Giant bundle of grapes (guys and girls): The easiest uni-sex costume of them all. You'll need purple leggings, a purple shirt, purple balloons and tape. Tape the purple balloons to the top of your outfit and you are set.
5-Hippie (guys and girls): This costume is especially easy, since this style has already come back in the past few years. You need a tie-dye shirt, flared jeans and a headband. You can also purchase hippie peace-sign sunglasses on amazon.com for $3.59.
6-Nerd (guys and girls): This is also a costume that should easily be composed of items you already own. You'll need a button-down collared shirt, shorts (that you pull up way too high), a dictionary, a calculator (put the calculator in the front pocket) and a pair of glasses. It also helps if you tie masking tape around the bridge or middle part of your glasses.
7-Fairy (girls): This costume is a little more difficult. You will need either a tank top or bandeau, depending on how much skin you want to show. Now for the fun part: to make the fairy skirt, you will need a ribbon (the size of your waist) and enough tulle (any color you want) so that you can have 10 pieces that are 12 inches. Tie the ribbon around you waist and then take it off. Then simply tie the different pieces of tulle around your ribbon. Wear a pair of sparkly tights or leggings and you will be the prettiest fairy on Halloween. You can also buy a pair of wings on amazon.com for $5.23. Just be sure to wear tons of glitter.
8-Jellyfish (guys and girls): The will be the most creative costume you have ever done. You'll need to wear all one color, preferably pink, white or purple. You will also need a clear umbrella and bubble wrap. You can purchase a clear umbrella at amazon.com for $12.99. If you want to add a little something extra go ahead and use pink or purple streamers. Simply cut the bubble wrap and tape it together in long, thin strips. Tape both the strips of bubble wrap and streamers to the edge of the balloon. You now have the most creative Halloween costume.
9-Roman goddess costume (girls): This costume is the easiest and least expensive costume you will be able to make. You will only need a white sheet and any other accessories (jewelry, head band, shoes, etc.) that you think add to the look. The only difficult part of this costume is learning how to fold your white sheet like a toga, but there are plenty of videos online explaining the process and once you have figured it out, you will have the process down.
10-Bumblebee (guys and girls): While this costume is usually thought of as solely for girls, it can definitely be a men's costume too. You will need black leggings/pants, duck tape, a yellow t-shirt and black spray paint. You can also purchase wings and a headband for $9.77 at amazon.com. To create the bumblebee-striped look on the T-shirt, place strips of duct tape on your shirt, where you would like the yellow to remain. Then, while you are outside spray the shirt with the black spray paint. Then simply take off the duct tape and you are a perfect bumblebee.
So take a deep breath and relax busy college students, you now have 10 very easy and very cheap costume ideas for Halloween. Just don't wait too long to make your orders online. There are only 15 days left until All Hallows Eve!
About the Contributor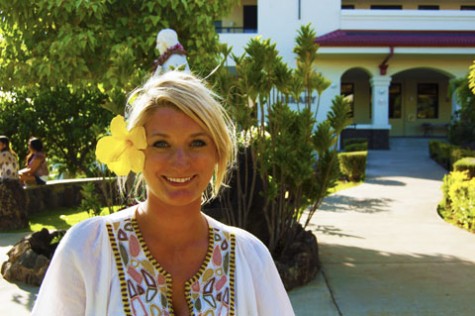 Jenni Chinchar, Staff Writer
Jenni Chinchar was born in Cincinnati, Ohio, and raised in Charlotte, North Carolina.She is a junior at Chaminade University, where she majors in Broadcast...