Cirque du Soleil wows Blaisdell audience with performance
Bored and losing the meaning of life, a young girl named Zoé slipped into an imaginary world of Quidam to fill the void of her parents ignoring her. It is there where she met many characters such as Target and John who help her, in a sense, find her purpose.
Her adventure begins at her house where she tries to get her parents to notice her. Unsuccessful with her attempts, a mysterious, headless figure appears at her door with a bowler hat that transports her to her alternate world.
According to the Cirque du Soliel website, Quidam is "a nameless passer-by, a solitary figure lingering on a street corner, a person rushing past and swallowed by the crowd."
Quidam could be anybody. It is someone's inner calling to be who he or she would ultimately like to be. But in the show, Quidam is place where people can express their individuality and go from an anonymous person to someone known.
Though the show is acrobatic intensive, the costumes were something to be noted as well. There were about 250 costumes with each artist having anywhere between two and seven costumes for the show. The costumes are designed specifically for the performer with two costumes to spare, just in case a rip happens.
Each costume as hand panted and retouched after every show where they can last anywhere between six months and two years. There were about 500 accessories for the show, 30 of them being hats which included the bowler hat Zoe used to enter Quidam.
The first acrobatic act that was performed was the German wheel. Though not an actual wheel but a large, metal hula hoop that can easily fit a person, the acrobat maneuvers the hoop to roll and spin by shifting their weight.
As the performance continued, multiple ropes and silk performances occurred, each more mesmerizing than the previous. But there were two acts that stood out to the audience the most: the statues and the banquine.
The statue performance defied gravity in a slow yet hypnotizing acrobatic performance. Thinking that the movements and balancing was impossible, the audience was wowed as the male and female duo were harmoniously in tune with the other.
The banquine performance is an Italian acrobatic tradition that dates back to the Middle Ages. A small group of 15 acrobats showed their skills in synchronized areal performances that kept the audience on the edge of their seats.
The most intense part of this act was when they were able to have a four people standing on one another's shoulders. The catch was that three of the people were tossed up with ease.
The banquin performers, who appear in both halves of the show, wore costumes that provided two different aspects of life: the real world and life after a tragic accident or war. With the costumes either vibrant and colorful or dull and bleak to depict each world, the live music and phenomenal acrobatic performances, Quidam was a breathtaking show that kept the audience's attention.
"As a whole, I thought it was impressive because it was slow-mo the whole time and that's extremely hard in acrobatics," said Arielle Taramasco, a sophomore at Kamehameha Schools.
But the entire performance would not have been completed without the comic relief provided by the ringmaster named John and a contemporary clown. There were audience interactions that made the clown's acts more amusing.
Quidam opened on October 4 at the Blaisdell Arena and will be performing shows from Oct. 9-12 at 7:30 p.m., Oct. 13 at 3:30 p.m. and 7:30 p.m. and Oct. 14 at 1:00 p.m. and 5:00 p.m. The prices for tickets range from $32 to $300 and is open to all ages.
About the Contributor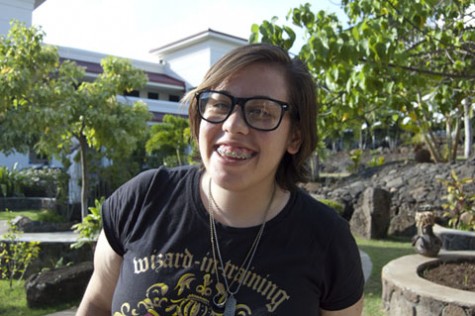 Jordan Zizzi, Staff Writer
Jordan Zizzi is a senior at Chaminade University majoring in broadcast communications. Jordan enjoys creating skits and videos along with writing as much...