Mission fashion possible
I was put to the test. I was assigned the task of finding an outfit with the maximum amount of $25. The catch was that I was only allowed to shop at thrift stores that sell second-hand and donated-clothing.
When some people think of second hand items, they get a sour face because the words used, dirty and old come to mind. However, through my experiences from shopping at thrift stores, I have found many brand new and unused items. I have also found clothing with that retro style and made it modern. Thrift shopping and revamping clothes has become a hobby, and an occupation for some.
"I love thrift shopping," said Jerricka Tagaca, a fashion student at Honolulu Community College. "There's so much variety of clothing that's so different from today's styles."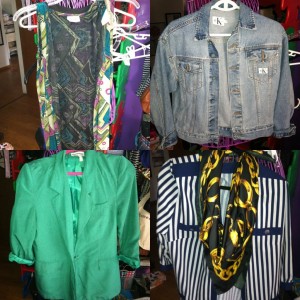 The three main thrift stores on Oahu that I spent my $25 at is Goodwill, Salvation Army and Savers. The style I was going for this outfit is just a basic outfit that I would be able to wear to school.
Cash: $25.00
My first stop to shop was at Goodwill in Wahiawa. Once I walked in, I automatically spotted a skirt that caught my attention. It was a black, mini, flowy skirt, which is similar to today's trend called the skater skirt. The skater skirt is by Urban Legends, is in great condition, and priced at $3.99. At the checkout counter, I was surprised to see that the total amount came out to $2.09. Come to find out, it was a purple tag item, which meant I got 50 percent off purple-tagged items that day. What a score! A plain black skater skirt on charlotterusse.com would have cost me $12.99.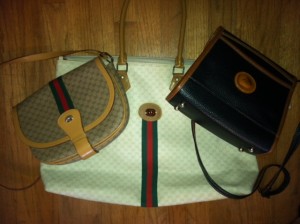 Cash: $22.91
Still at Goodwill, while walking around the warehouse, I found a brand new Green Bay Packers cap. Perfect for the football season. I also saw a lot of vintage-style blouses with the shoulder pads still intact. Just a few snips and cuts, and they could be cute modern blouses. But I had to focus on the mission and pass them up.
My next stop was to Salvation Army in Wahiawa. Usually, when I shop at Salvation Army, I can't find much clothing. I saw a lot of furniture and household items, but the yellow signs that said "50% off ALL CLOTHING" was too good of a deal to pass up.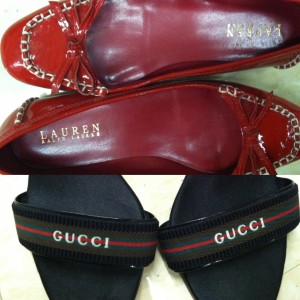 Another trend nowadays is the denim vest. Denim vests go great with a dress and as a cover up for plain tops or spaghetti straps. Luckily, I found a Molly Mallow denim vest priced at $7.99, which would be $3.99 with the 50 percent off. At the checkout, I was stunned again that my total came out to $1.04. I asked the cashier why was it so cheap? Is anything wrong with it? And she replied with the promotion they had about clothing being $0.99 when it has been over a month for sale. I was so astonished about the deals and promotions thrift stores have, even with their already low prices.
On americaneagle.com, a denim vest at sale price would be $19.95. That's more than two times the original price my vest would've been.
Cash: $21.87
My final stop of the day was Savers in Waipahu, my all-time favorite thrift store. I love the shoe and bag collection that Savers has to offer. I have found vintage bags from Chanel, Gucci, and Dooney and Bourke.
To top off my outfit, I wanted to get a simple top, something with a little design, and white. I spent a little longer here than at the other stores because Savers is such a big store. Then I finally found a white Banana Republic tank top with knotted straps for that little design I wanted. It was priced at $5.99, which I thought was reasonable. It wasn't as cheap as my other items, but it was OK with me because it was a brand name. On bananarepublic.com, a basic tank top would be $25.00, which meant I saved about 70 percent.
Cash: $15.60
I tried to find a pair of sandals at each store with their large variety of shoes, but I couldn't find anything that was to my taste. So I went to Savers in Kalihi.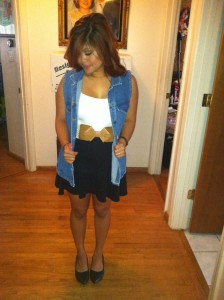 When you first walk in, brand new Halloween costumes are being sold for all ages, young and old. So if you're looking for a Halloween costume, Savers has some to offer at low prices.
In the shoe section, I found a lot of brand named footwear, from Ralph Lauren, Nine West, Aldo, Gucci and more. For my footwear, I found Miss Me pointy black flats with a small heel, priced at $7.99. I love flats as they are the easiest slip on and slip off footwear next to slippers. On forever21.com, a pair of pointy black flats would cost $16.80. I saved about $8.
Cash: $7.23
When I got home and tried on the outfit all together, it just didn't look right. It didn't seem like me. I was missing accessories. I went to Goodwill in Pearl City because I once found a vintage Versace belt there. So for this outfit, I just needed a belt. I found a cute brown knitted bow belt, priced at $4.99. On wetseal.com, it would have cost me $10.50.
Cash: $2.03
After searching through hundreds of clothes and shoes, I have accomplished my mission with $2.03 to spare. I got a cute outfit for school, shopping and maybe even for a night out with a few adjustments.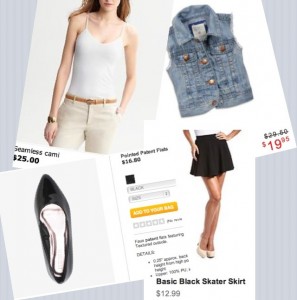 There is nothing wrong with shopping at thrift stores. A lot of items are there that you wouldn't expect to find. All you have to do after you get them is to wash them!
Thrift shopping total: $22.97
Online shopping total: $85.24
Total saved: $62.27
About the Contributor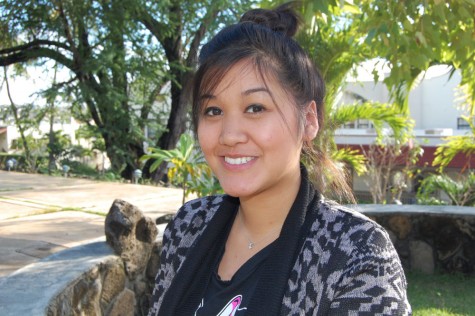 Carol Stacy, Staff Writer
Carol Stacy, a local Honolulu gal, is a junior studying Communications Marketing. Graphic design, photography, and fashion interests her, but one of her...