Dig in at Crab City
Eating with your hands, a bib and no utensils is allowed at Crab City. This new restaurant, just up the road from the Chaminade campus on the corner of 9th Avenue and Waialae Avenue, just opened in July and is ready for business. Crab City is open from 11 a.m. to midnight for some late-night munchies.
The new trend this summer on the island of Oahu was the seafood boil restaurants. Crab City is one of the three Cajun seafood boil restaurants that popped up this summer along with Kickin Kajun and Raging Crab in Keeamoku. These restaurants have been a rage, like the mainland's famous Boiling Crab, and it's a must to try out all three that we have here on the island.
Crab City is owned by Chef J.J. Luangkhot, who also owns JJ French Pastry.  It's a whole different industry from being a pastry chef to handling seafood, but by the looks of it, business is doing ex-sea-lent.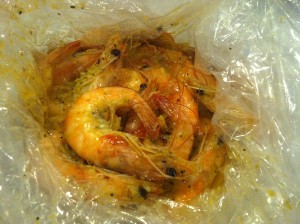 When entering the restaurant on a Friday night, the young staff greeted us lively, and the hostess took our name down. She estmiated our wait to be 30 minutes, but we got to sit down in 20. With one step into the restaurant, I felt the high energy. The décor on the walls were all related to seafood, from its silly wall decoration quotes like, "Don't bother me, I'm Crabby," to the fish nets across the ceilings filled with crabs to the surfboards along the blue walls to everyone's crab bibs. There are several televisions on each wall that were playing sports, but they can be changed according to your preference. A private room is also available in the back for private parties.
Fried appetizers like hot wings, catfish, shrimp, calamari and oysters range from $8.99 to $10.99 and come with Cajun fries. An oyster bar is located at the front of the restaurant and is priced at $15 for one-half dozen and $28 for a dozen. Refillable soft drinks and iced tea are $2 and beer for $3.
Now for the main dish, or bag as it comes literally, there are 9 seafood entrees you can choose from: lobster, Dungeness crab, king crab, snow crab, blue crab, crawfish, shrimp, clam and mussels. Then you pick your flavor of lemon garlic butter, garlic butter or Cajun style. Lastly, you choose the spice level: mild, medium or volcanic. Crab City offers three special combos, which have a mixture of 4 to 5 entrees that are not substitutable and priced at $38 or $48. The menu is a la carte, and have sides like clam chowder, sweet corn, rice, bread, potato, edamame, Cajun fries and sausage to go along with the seafood entrée.
While waiting for a spot to open up for us to be seated, the aroma of garlic and seafood made my mouth water. After the 20 minutes of waiting, we were finally in our chairs with our big bibs. I ordered a pound of shrimp with lemon garlic butter at a medium spice level and a side of sweet corn. I went with my favorite seafood shrimp, while Gerald Ulep, University of Phionex Junior, ordered snow crab legs with lemon garlic butter at a medium spice level. We are not so much "spicy-spicy food lovers," so volcanic was off our menu.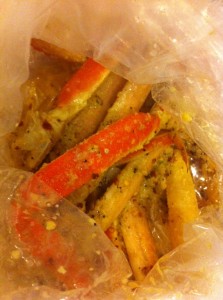 The food took no longer than 10 minutes to arrive and was steaming hot when it arrived in a clear bag from a silver bucket. Our waitress offered us gloves to use while we eat, but we denied them because we were excited to dig in and we wanted to get the feel of eating with our hands. The bag was double bagged and filled with the delicious lemon garlic sauce with just the right amount of spice. The shrimp was very juicy and packed with flavor. There were times where I would bite into the shrimp and the juices would squirt out. I was so thankful for those bibs protecting my clothes; I guess the bibs aren't just used for style.
As for the snow crab legs, it was extra messy compared to eating shrimp with just my fingers. For the snow crab, I demolished its legs with my bare hands and got some help from the crab opener. The inside meat was soft and flavorful also. It's just getting to the meat that's the hard part.
By the end of dinner, our fingers were sticky and reeked of seafood and garlic, but that didn't bother us. We received our check and got a 10 percent discount for its grand opening. Our waitress also gave us a VIP card for a 10 percent discount, which is redeemable every time you dine at Crab City, JJ French Pastry and Panda Cuisine.
The staff was friendly and engaging with its customers. This restaurant is a fun place for kids, teens, adults of all ages and groups for a casual dinner out. Free parking is available in the back of the restaurant and street parking is also available if the back is full.
Crab City
3441 Waialae Ave.
(808) 780-3115
Hours: Mon-Sun 11 a.m.-Midnight
Parking: Street and private lot
Attire: Casual
Price range: $$ out of $$$$
Takes reservations: No
Take out: Yes
Delivery: No
About the Contributor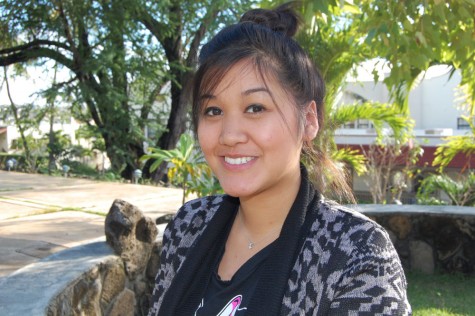 Carol Stacy, Staff Writer
Carol Stacy, a local Honolulu gal, is a junior studying Communications Marketing. Graphic design, photography, and fashion interests her, but one of her...