Call Me Maybe?
We've done it before. From the double take, to the eye aversion, the sly head nod and even the uncontrollable smile, at some point in our day we spot our crushes rounding the corner of the building making their way to class or God knows where.
Chaminade is a fairly small university, and for all practical purposes, we bypass the same people every day, sometimes even twice (but who's counting), and each of us has had our fair share of "hit" or "miss" impressions when encountering our hot campus crush. Some are well played and would dare be considered suave. Other times, we end up embarrassing ourselves and walk away thinking, "Well, great, that was 'smooth'."
However, not every person operates confidently, and for those of us who do nothing but wonder about the cute girl in the library or that smokin' guy you see at the Courtyard, here's a quick profile of some of CUH's frequently asked about bachelors and bachelorettes.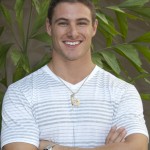 John Paul Bugna
From: Santa Cruz, California
Year: Senior
Age: 22
Major: Criminal Justice
Zodiac sign: Taurus
Coming to Hawaii for school, he had no idea what he wanted to major in, but moving to the 808 turned out pretty well for bachelor John Paul Bugna.
"I've always wanted to live in Hawaii and I had an awesome opportunity to do so," said John. "I have a brother who was living here at the time so I figured I'd go live with him in Hawaii until I figured it out."
Throughout his years at Chaminade University, John has successfully maintained his position as president of the Alpha Phi Sigma National Honors Society (APS) and the Chaminade Criminal Justice Club (CCJC).
Outside of his busy work and school schedule, John finds ultimate relaxation in the simple things life has to offer. Between night fishing and maintaining a healthy lifestyle at the gym, John recognizes and expresses the importance of time spent with family and friends.
"I love just hanging out with my closest friends and family," said John, "nothing more makes me happy than being around the ones I care about, sharing laughter and quality time with them."
For John being single has its ups and downs.
"I enjoy my alone time to sit back and unwind," he explained, "but I find more often than not, nowadays I'd like for there to be someone to sit and unwind with me."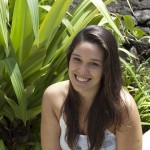 Chardonnay Pao
Major: Bachelor of Arts in Business Administration & Minor in Marketing Communications [Professionalism with Creativity]
Year: Senior
Age: 20 soon to be 21
Zodiac sign: Scorpio … so beware of the tail, she stings yeah.
She's on a personal mission to complete the Insanity program, loves adventures, and Kanikapila is a MUST. But how does Chardonnay Pao find extra time to do the little things she enjoys while being the "face" of CUH, a residential assistant at the Date Street dorms and a Hogan Entrepreneur?
Plain and simple, "I am Wonder Woman," expressed Char.
Aside from her flawless alter ego, Char is your average local girl enjoying the gift of life and serenading the many people she meets with her captivating voice. "Music is a big part of my life," she said. "It's an act of gathering, sharing, showing affection, having good times and showing honor to our Kupuna and God."
With beauty, brains and talent, Chardonnay can be perceived as the triple threat. But don't let that intimidate you. Her easy going personality and personable smile is enough to make any person feel as if they've been life long friends and all this super girl is looking for is someone to conquer the world with.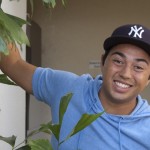 Kaipo Leopoldino
From: Hawaii Island
Major: Pre-Law w/ CJ
Year: Junior
Age: 20
Zodiac sign: Leo
Nominated for the "Aloha Spirit" award last semester, Kaipo Leopoldino basically lives, eats, and breathes the Hawaiian value. That's what makes him the most asked about young man to walk through the halls of Chaminade. His 'ano (personality type) is so refreshing it's no wonder Kaipo was elected to represent our CSGA student body as President.
"A wise man once asked me, 'Kaipo, what do we need as Hawaiians?' I couldn't answer, and he said what we need are leaders, we need the next generation to step up," said Kaipo. "I like to think of this as doing my part.
As a young man deeply rooted in his culture, he is forever grateful for the opportunity to have attended Kamehameha schools and finds the time to give back to Pauahi (school founder) by coaching the high schools speech and debate team.
Even though he lives a life around busy schedules he always has time to indulge in his "not so guilty" pleasures.
"Teuila Tauaese (a Chaminade student) is my guilty pleasure," said Leopoldino jokingly. "Honestly, I don't have a guilty pleasure. Or if I do, without knowing, I don't feel guilty."
Striking up a conversation with Kaipo is never seen as a difficult task; his enlivened personality is enough to break through any ice. Maybe if you're lucky, he'll kick off the conversation with his trademark pickup lines. "You want your kids to go to Kamehameha?"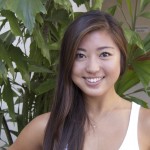 Anna Lee
From:
Japan
Major: History/Political Science
Year: Senior
Age: 21
Zodiac sign: Leo
"Act like a lady, think like a boss." That's bachelorette Anna Lee's one piece of secret advice she shares with ladies everywhere.
This international student traveled all the way from Japan and fell in love with Hawaii's "laid back" lifestyle.
"Japanese people have very busy lifestyle, and we don't have a habit of just relaxing or taking things easy," said Anna, "I experienced that people in Hawaii are very warm, and live a more relaxing life."
Lee was determined to find a suitable college in Hawaii that offered her major. "Chaminade offered a great elementary education program," said Anna. "However, I found another interest in the field of learning history, but I still want to teach!"
This quintessential girl next door exudes a fresh and pleasant personality. It's only fitting that her favorite song would be Mariah Carey's version of "All I want for Christmas is You."
"This song makes me HAPPY and I wish it was Christmas everyday," said Anna. Who knows, maybe this Christmas she'll dream by the fire with that special someone in her Winter Wonderland.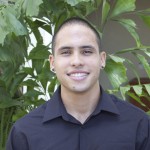 Michael Ribao Jr.
From: Maui
Major: Criminal Justice
Year: Sophomore
Age: 20 years old
Zodiac sign: Gemini
He plays soccer, golfs, surfs, works out, values his friends and family, but above all else, he loves making people laugh.
In a tight situation with a girl, Mikey looks to laughter as the key to alleviate the tension.
"Crazy scenario, if my car ever broke down at a stop light with a cute girl in the lane next to me, I would walk up to her car and say, 'Well I guess God really wants me to talk to you. That's why my car broke down.'"
His great sense of humor is enough to charm any girl, but what does it take to catch this local boys eye?
"Right off, she would have to make me laugh," Mikey said. "If it's a line from a corny joke or all the way to a weird gesture, that should do the trick."
It would seem that a girl who can share the same interests as Mikey is a keeper in his own eyes.
"My type of girl is one that is funny and that can take a joke every once and a while," said Michael. "A girl that loves to have fun but knows when to be serious when the time comes, this girl can't be afraid to show off her goofy weird side.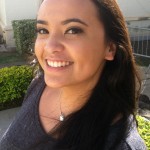 Candace Maria
From: Wahiawa
Year: Sophomore
Age: 19
Major: Nursing
Zodiac sign: Aries
They say that diamonds are a girl's best friends. According to Candace, times have changed and diamonds have been replaced with a wing woman.
"A perfect wing woman will let you know if a guy that started dancing behind you is hot or not, said Maria. "She'll give you the thumbs up or the slit throat signal. If he's hot you'll get a number on a scale of 1-10. 5 and below YA' GOTTA GO. 6-10 Do twerk girl!"
Only a sophomore at CUH, Candace is involved with several campus clubs. "This school year I joined Hawaiian Club, Tahitian Club, La Familia, and Lumana'i O Samoa," said Candace. "Outside of school I enjoy dancing Tahitian for Manutahi Tahiti. I've been dancing seven going on eight years. It's become a true passion of mine."
Dance is not only a passion for Candace but it's also a pass time.
"I practice Beyonce's dances in my living room when nobody is home," said Candace, and as dancer extraordinaire, she committed herself to learning the entire routine to the "Single Ladies," "Ego," "Love on Top" and "Dance for You." "Yeah you could say I'm obsessed.
You don't have to be a great dancer to keep up with this hot stepper. However, a friendly reminder is to meet at least one of the many requests Candace has. "MUST BE SINGLE."
About the Contributor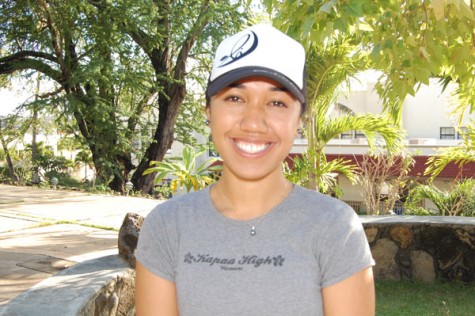 Lei Ui Kaholokula, Staff Writer
Born and raised on the island of Kaua'i, Lei U'i Kaholokula aspires to take her education in Communication and Mass Media to greater heights and become...