'Young Frankenstein' musical stays true to Mel Brooks spirit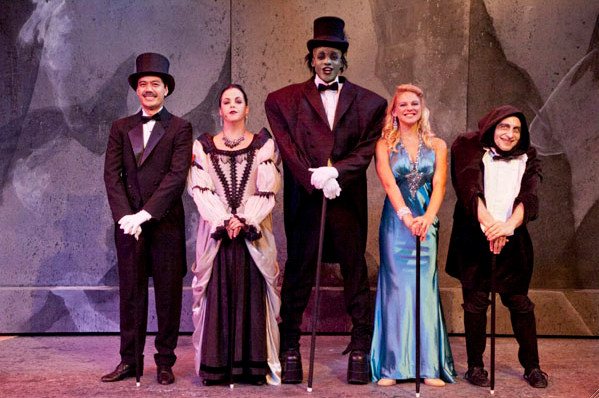 A professor with a family history of reanimating the dead, a housekeeper whose name scares horses, an assistant whose hump moves from shoulder to shoulder, and a young Transylvanian lab assistant with a degree in Laboratory Science. Sound familiar? If you're a Mel Brooks fan, it should be.
A movie turned into a musical, "Young Frankenstein" is based on the 1974 movie directed by Brooks and later made into a musical by both himself and Thomas Meehan.
Making its debut as a pre-Broadway tryout in Seattle in 2007, it moved to Broadway in November of that same year where it ran for 485 performances. It had its national tour in 2011 and ultimately came to Manoa Valley Theatre this year to kick off the theater's 44th season. It started on Sept. 6 and will run until Sept. 23.
The musical follows young Dr. Frederick Frankenstein, or Fronkensteen as he would rather be called, as he travels to Transylvania to settle his late grandfathers estate. There, he meets his newfound assistant Igor, Frau Blucher, Inga, Elizabeth, Frankenstein's monster and the citizens of Transylvania led by Inspector Kemp.
The Manoa Valley Theatre's performance stayed true to the movie as it came to life from the big screen. The musical still had much of Brooks' humor in it as some songs, such as "Roll In The Hay" and "He Vas My Boyfriend," were based off a single line from the movie. Even a few more modern references were put into the musical that appealed to the younger audience as well.
Guest directed by Hannah Schauer Galli, whose favorite Brooks movie is "Young Frankenstein," she took it upon herself to contact the theater in being able to direct the show.
"I don't do a lot of theatre outside of my job and outside the company I started, but this one tickled my fancy," said Galli, who received her masters in directing theatre in 2000, directed her first show sometime in 1995 or 1996, and started the All The World's A Stage theater.
Though normally done on a much larger scale, the cast and crew were able to make use of the small space they were given. However, the restrictions did not damper the performance. This allowed the cast to have a little more audience interaction as the actors would run or sing through the aisles.
The cast was also given the opportunity to bring their own interpretation of the characters into the musical so that it wouldn't make it seem like you were watching the movie live.
"It's one of those things that sometimes whenever you try and mimic what somebody else has already done, not only do you not do it very well, but it's also not fun because you're not being creative," Galli said.
One character that was portrayed a bit differently was Elizabeth Benning, who is Frankenstein's fiancé and played by Jody Bill. In the movie, Benning is a bit more uptight as she says goodbye to Frankenstein as he leaves for Transylvania. In the play, in which was written originally for Megan Mullaly but who was unable to take the roll, Benning is a little more outgoing as she avoids being touched at all costs.
"Since the movie is so iconic, it was important to me to stay true to the Madeline Kahn interpretation while incorporating Mullaly's take on the character," said Bill, who has been part of the Manoa Valley Theatre since her performance in Avenue Q in 2011.
Even though each cast member brought something different to their character, there were moments when lines, or certain parts of the scene, had to be done exactly how it was in the movie. One instance was when Frankenstein finds out that Igor had given him the wrong brain to put into the monster.
Overall, the show is a must see if you're a fan of Mel Brooks fan and enjoy a very well put together play.
The production will run until September 23 at the Manoa Valley Theatre. Show times will be at 7:30 p.m. on Thursdays, 8 p.m. on Fridays and Saturdays, and 4 p.m. on Sundays. Tickets for those 25 years old and younger are $20, $30 for seniors and military personel, and $35 for the public. Children must be at least 6 years old to watch the play.
There will be a special deal for Wednesday, September 12, where the cost of two adult tickets for $40, which are regularly priced at $35 each. Tickets are available online at www.manoavalleytheatre.com or by phone at 988-6131.
About the Contributor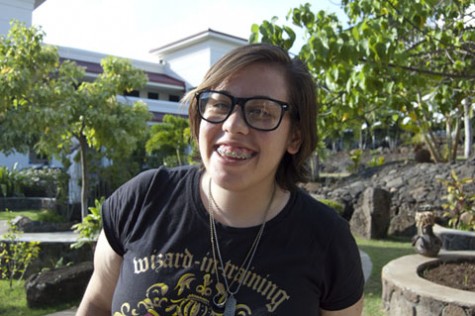 Jordan Zizzi, Staff Writer
Jordan Zizzi is a senior at Chaminade University majoring in broadcast communications. Jordan enjoys creating skits and videos along with writing as much...