Succeeding graduates face a failing job market
The benefits of being a communication major seem endless. A three-in-one major, a degree in communications offers mass communication, marketing, as well as a well-rounded aspect on the broadcasting side.
However, for future communication majors, and other bachelor's degree bound students, working four-plus years to obtain a piece of paper, no longer produces a list of available job options for graduating seniors for 2011-2012 year.
With society's emphasis on the importance of going to college, students are being faced with a dilemma. If choosing to attend college, students are ultimately committing to a living style with an ample amount of debt, in which most know full well of. Yet, the idea of never being able to pay their way out of this college debt did not occur until just recently.
Lindsey Mountain, 22, a graduating communication senior at Chaminade, said she has only been looking for a job for a few weeks because she recently found out where she was moving after graduation.
"When I was going in to college, the economy crisis just started and things weren't looking as bad for college grads as they are now," Mountain said. "I wasn't thinking about this then."
According to an April 2012 article of Associated Press, about 1.5 million, or 53.6 percent, of bachelor's degree-holders under the age of 25 last year were jobless or underemployed, the highest share in at least 11 years.
College students nearing the end of their four-year term have recently been preparing by scouting out options for jobs, and have found a rude awakening to the severity and the downfall the job market and economy still are.
According to government projections released last month, only three of the 30 occupations with the largest projected number of job openings by 2020 will require a bachelor's degree or higher to fill the position—teachers, college professors and accountants, the Associated Press said.
"The biggest difficulty people have in is business, academics and government with the inability to communicate," said Cliff Bieberly, the head of the communications department at Chaminade University.
"Organize your thoughts and organize information, so you have a body of knowledge that you can draw on to interpret things for people … you don't just go to college for a degree, but to learn how to think and communicate … that is why we are facing what we are in the world today."
The prospective job hopes graduating college students are facing are not being met, and many are beginning to find it out the hard way.
Senior Kacey Zhang, 22, a Chaminade communication major, said she prolonged her graduation date because she said the job market looked so bad. She is hoping the job market will turn around by December when she graduates.
"I'm just going to be realistic. I am probably not going to find an ideal job for a couple more years," Mountain said. "… So I am just going to apply to as many as I possibly can to increase my chances of getting a job."
About the Contributor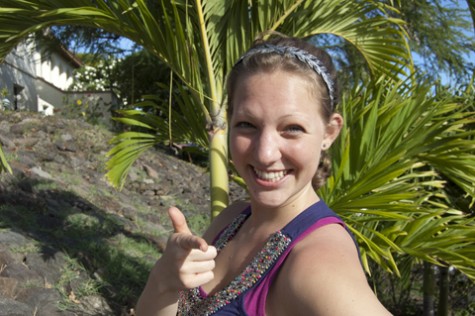 SM Webster, Staff Writer
A senior student attending Chaminade University, SarahMarie Webster, is a Mass Media-Communication Major.  She was the VP of Communications for the Chaminade...