Transfer student ready to make a change
Last semester, Caitlin Dinneen transferred to Chaminade from California, for the elementary education program and with the hope of playing volleyball. This semester, with the help of her friend, Dinneen ended up running for executive vice president alongside with Kaipo Leopoldino, who ran for student government president.
Leopoldino and Dinneen won the elections two weeks ago with a 56 percent vote and became the student government president and executive vice president for 2012-13. Dinneen became one of the rare cases where transfer students ran for and became executive vice president to serve the student body.
"It shows how Chaminade is," Dinneen said. "Accepting someone new that you agree with what they want to do with the school. It's a pretty good mix because Kaipo has been here for two years and I'm a transfer student. I can offer a more objective view on things and I can also represent new students because I know what it feels like to be new."
Dinneen originally planned to run for commuter senator. Belt approached Dinneen and asked if she wanted to run with Leopoldino for executive vice president. Since she has only been at Chaminade for a semester, Dinneen didn't know how she would be perceived, but since she wanted to get more involved with the student community, she accepted the position within one week.
Leopoldino and Dinneen met last semester through Jeremy Belt, vice president of internal affairs, who ended up matching the two together to run for president and vice president due to ineligibility of several candidates that were hoping to run for a position in CSGA.
"She wanted to get involved and I needed a running mate, so it was the perfect match," Leopoldino said. "We are so similar in personality – lively, bubbly, she also excels in areas where I am not necessarily the best in. We balance each other out, and in the end we both just want what's best for Chaminade."
Dinneen did not have the chance to meet the other executive board members until one week after the elections occurred. As soon they met, Dinneen expressed how excited she was to work with her fellow executive board members.
"She is a superb asset to the executive board," said Kristen Rothermel, sophomore and vice president of allocations board. "She is very focused and can get the task done quickly and efficiently. I cannot wait until the CSGA gets going next year to see all the great ideas she can bring to the table put her skills in action."
Soon after the executive board was elected two weeks ago, the first decision that the board had to agree upon were introducing the new vice president of internal affairs and communications positions.
"We all had outgoing personalities," Dinneen said. "We've all clicked immediately, got together and jumped onto one thing for vice president of communications and internal affairs. That was a joint decision and I can only wait to get to know them better."
Dinneen was originally from Los Altos, Calif. She went to Foothill College and decided to turn to Chaminade in Fall 2011. Even though, Dinneen has only been here for a semester, she has already been deeply involved with the education club, surf club, campus ministry and the student government. She played volleyball for the 2011 season, however due to a continuing knee injury, she will not be playing for the next season.
After going to school in California, Dinneen was ready to leave home and the west coast area. She immediately fell in love with Hawaii because of the friendliness and diversity she has experienced. Dinneen feels that being able to come across diverse cultures can help her with her teaching career.
"There's so many different groups and ethnicities here," Dinneen said. "There's so much diversity all packed into one small place. I thought it might be good to teach here as our world becomes more global, every school is so diverse now it makes sense to learn how to teach everyone from different cultures, which is hard sometimes."
After coming to Chaminade for almost two semesters and becoming the executive vice president for the 2012-13 academic year, Dinneen has a vision of improving Chaminade into a more inclusive and community-based aspect.
"We need to come together as a community to have events that everyone can be interested in and have reasons to come together as a school," Dinneen said. "I see it as to have a school that's proud of what it represents and what we offer here for our students. We can be proud to say that this is Chaminade, we offer an experience like nobody else and we think you should join us."
About the Contributor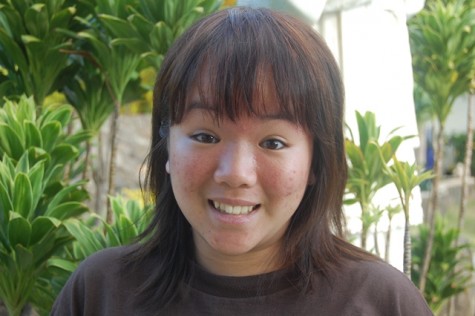 Claudia Chan, Staff Writer
Claudia grew up in the busy city of Hong Kong and came to Chaminade University two years ago to pursue her college degree. She is currently in her third...