Time to express yourself
In the post teenage-to-adult-to-functional-member-of-society phase of life called college, and in the tumultuous daily routines there-in called life, one needs to find a place to vent, decompress, get a load off, or just express oneself to re-normalize one's Id. Welcome to Open Mic. At Open Mic, one can express oneself in any manner (within the framework of the student guide) and off load the baggage of today, cleansing oneself for the promise of tomorrow…or to make room for the additional baggage that is put there lurking and presently not found.
Aulama's Open Mic event will be on Friday, April 20, 12:30-1:30 p.m. at the Courtyard café. For those wishing to perform at the event there will be a sign up when you get there.
"I am really excited," said Katrina Garcia, senior at Chaminade. "It's been fun putting it (Open Mic) together."
Garcia is part of Aulama, which is a class run by the student-publishing magazine. In the class the students have different committees that they are part of. Garcia is on the PR/marketing committee, which manages their Facebook and website. She said that the Open Mic is a time for students to be able to express themselves. Students are given the chance to present anything they want. It can be a poem, short stories, song lyrics, a declaration of love to someone sitting in the courtyard, or just talking about the food you ate, the microphone is yours while you are up there.
This is the second Open Mic event that Aulama is hosting. Garcia said this time it is a little different from the first one. For prizes they decided to offer gift cards. By doing this they hope to encourage more students to participate in showing off their own talent. However, for the most part it will be the same.
Kexin Zhang, a senior at Chaminade, who is in the Aulama class said the Open Mic is a traditional event for the Aulama class. It is an event where one can share their feelings. The previous event was considered a success since students and professors had a wonderful experience. She is hoping that the second Open Mic will be even more enjoyable for everyone.
Garcia said in order to make sure that more people are aware of the Aulama class and what it entails they hold events throughout the semester. It also helps them to publish their book because it runs on student's artwork. By having three to four events throughout the semester it keeps them relevant and known.
If anyone has any poems, short stories, photos, pictures of artwork that you would like to see published, one may submit it to [email protected] Also Aulama just made a Facebook page (update www.facebook.com/CUHaulama) in order to keep a student update with their activities.
"The last event was a great turnout," said Garcia. "Radio CUH was there to broadcast it live and we had such a great variety of poems, and even had people come and sing. We hope that this next event will have a bigger turnout."
About the Contributor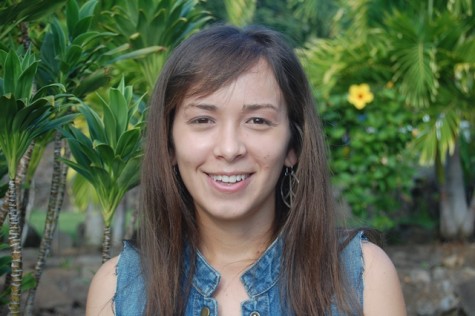 Jena Stomber, Staff Writer
Jena Stomber, a senior at Chaminade University, likes to write about good places to eat for the Silversword. She majoring in Communications in Marketing...