2 sites 2 see in Seattle
If you find yourself heading north on Interstate-5 on an overcast or rainy day, surrounded by numerous exit signs and can see a giant skewered alien spaceship called the Space Needle emerging from the ground, you have probably reached the destination you were looking for on your trip.
Welcome to Seattle, Washington.
Being a born and raised Washingtonian, here is a list of some of the insights to an underground view from two of my favorite places to go in Seattle:
1. Pike Place Market
I know it is a traditional stop and you may feel like you just to want to get away from all the clamor of the city and experience some real down-in-the-dirt Washington. But trust me, you may be getting the best just standing where you are. There are some really cool things to see and try.
One of my favorites is the Rocky Mountain Chocolate Factory that is located on 1st Ave. The first Starbucks is located right across the street from the marketplace too.
Also, next to Rachel the pig in the center of Pike Place is a staircase. If you follow it down, take a right and then a quick left into the alleyway. There you will see the glorious gum wall.
You don't want to miss out on this sight.
What to expect at Pike Place Market:
Hobos are a main attraction and basically line the street. They are very friendly and can direct you better than any one of the street building signs, because I can guarantee that most are blocked by the masses of moving people. So if you get lost, ask one playing an instrument or smiling.
If you are too shy/scared to ask a homeless person, keep your eye out for people that look orange, dress in UGG boots, and are wearing short shorts when it's 50 degrees. These are some of the true Washingtonians. If they look like they are dressed for summer anytime of the year, ask them for help.
Nevertheless, if you are lost, you will get a clear answer if they will help you after 3 seconds. If they push past you, leave them be. If they "truly" bump into you, grab them and ask them for help. If they bump you, you're obviously new, and they are sure to have already recognized it. So they will help. But, if they look frustrated before you even speak, fake an accent. Believe me, it works.
My best advice: Try a little bit of everything to eat, and go on a Tuesday for a smaller crowd.
2. Alki Beach Park
If you want to get away from the city life, there is Alki Beach Park at about a 20-minute drive away. It is located across the Puget Sound, where you have a great view to the west of the Olympic Mountains, the Cascades to the east and the Space Needle from a distance. The park's location is in a not-so-crowded area, so it adds to a scenic Washington atmosphere not far from the city.
What to expect at Alki Beach Park:
A calm walk on the water's front is always appealing if you want to get away from city life. Alki Beach provides that. There are usually a lot of people at Alki during the summer days. However, it never feels like it. Everyone keeps to him or herself there and enjoys their solitude, even if it happens to be crowded that day.
Getting to this location is the trick though. Every time I have gone, I have gotten lost because even though it is impossible to mistake where you are located on the map, you will sit there wondering why all the maps you have show labeled streets where they are nowhere to be found. My best advice in this situation is using the GPS on your smart phone. It is the best way to go because it will show construction updates and how to get around them most of the time.
However, it is still not guaranteed because there are always frequent projects to attend to. Stop by a restaurant and ask for help if you still need directional guidance. They will probably take you in with open arms.
If you are shy or nervous in asking, just sit and sip on a cup of coffee. I can almost guarantee that within the time you arrived, they just gave the same directions to a man before you and the woman that is walking in the door after you is going to ask the same question.
My best advice: Wait for the next person to come into the restaurant and leave so you can follow him or her.
Weird Facts:
Many students from the Hawaiian Islands, when going out of state for college, tend to stay close to home or head toward the west coast of the United States.
Whether you are a full-blooded Washingtonian or not, the University of Washington and Seattle are definitely the most sought-out destinations for college schooling.
3 in 1 weather mixes of snow, sun, and rain, in one day are oddly common.
It is easy to get away from the urban life.
You will fit in if you are a proud supporter of the Seattle Sounders, lover of Ivars clam chowder, and addicted to Starbucks coffee. That's all it takes to be a labeled as a veteran of this state.
The local's here make my home even seems convincing to travel to, even for me.
I don't care if you don't burn, if you live in this state, the first kiss of sun is always a burn.
During the change of seasons there is one day that you catch a warm breeze, we call it the Pineapple Express. It is said that it is a gust of wind blowing in from the Hawaiian Islands.
Washingtonians suffer from a Vitamin D deficiency daily.
They only way to get away with pulling off a Washingtonian style is to dress in layers. True Washingtonians may appear to be wearing a tank top. However, the number of tank tops on them is probably around 8.
Many people are off on Mondays, so Tuesday is our state-normal slow day.
If you find yourself ever lost, my best advice is to head for the water.
On warmer days after a rain, the gum wall smells like pure sugar.
About the Contributor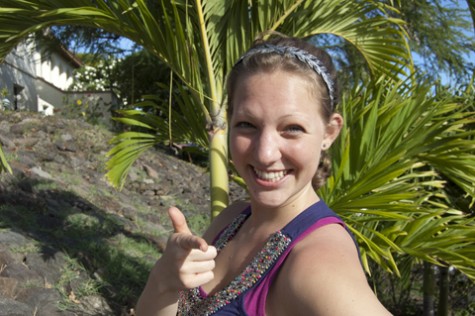 SM Webster, Staff Writer
A senior student attending Chaminade University, SarahMarie Webster, is a Mass Media-Communication Major.  She was the VP of Communications for the Chaminade...