Holly makes a difference volunteering at the Homeless Shelter
Holly Hewitt, 21, a junior and Criminal Justice major at Chaminade University, has been a member of the ROTC program and has had to juggle five to six classes every semester since she started as a Freshmen. Despite her busy schedule, she still finds time to give back to the community as a volunteer.
She volunteers on a regular basis at the Next Step Shelter in a large warehouse located off Ala Moana Boulevard, right next to the Kakaako Waterfront Park. The shelter houses 300 of Honolulu's homeless people, one-third of which are children.
Hewitt is at the shelter about three times a week—Mondays and Tuesdays from 5 p.m. to 9 p.m., and Saturdays from 8 a.m. to 2 p.m. Her duty at the Next Step Shelter is to focus on the children by helping them with their homework assignments, playing and "talking stories" with them.
"I'm a friend to the kids," Hewitt said. "I try to be a good example and hopefully it will keep them out of trouble and out of jail."
She also helps with serving food, cleaning up and doing other special assignments that may appear unexpectedly.
"Holly does a good job," said Kapua Tani, the site coordinator and assistant project leader. "The kids here love it when she's around. She is a good role model for the children."
Lack of time is the number one reason people don't volunteer according to Tani. Hewitt is one of those people who have little spare time, but with a little time management, she was able to squeeze in a few hours to give back to the community.
While in Hawaii, Hewitt has worked at three other shelters. She discovered the Next Step Shelter at the start of the school year while doing service learning for Chaminade University and has been there since. She is the only one from the group that returned to continue helping out.
"I do it because I like to help people," Hewitt said. "I get a lot back."
She started her career as a volunteer when she was in eighth grade. She was part of a mission team that did volunteer work every year while in high school.
Hewitt was born and raised at Riverside, Calif. She came to Hawaii to attend Chaminade University for the Criminal Justice program.
"I heard that 80 percent of the Criminal Justice Majors at Chaminade University get accepted into the FBI," Hewitt said. "It is my dream to either serve in FBI or the US Marshall."
Hewitt has been a member of the ROTC program since she started at Chaminade because it would eventually look good on her resume. Unfortunately, right before the 2012 spring semester began, Hewitt was discharged due to personal issues.
Now that she has more time, Hewitt is working on getting accepted into the Study at Sea Program, where she will be on a ship for a whole semester taking classes and visiting foreign countries.
Her personality as a hard worker and her nature to want to give back makes her a likely candidate.
Although many people may call Hawaii paradise, Hewitt is not very fond of being here. She tries to get off the island as often as she can.
"I don't like how the people here drive, I don't like the slower speed limit and that there's not much to do here," Hewitt said. "I love the people and the culture here though."
About the Contributor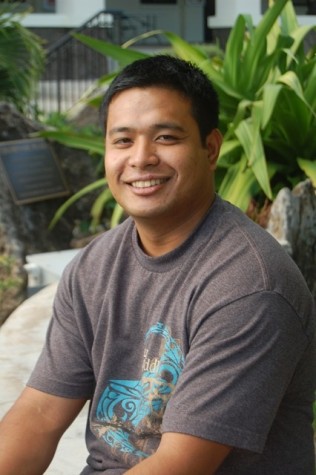 Patrick Reeder, Staff Writer
Mr. Patrick J. Reeder was raised in Hawaii Kai. After completing high school and saving up enough, he moved to Santa Barbara, CA. to party it up. Eventually,...