Shining with Maui
Chaminade junior Catelin Aiwohi won the Miss Maui pageant and represented Chaminade University.
Aiwohi was motivated by her friends and family to join the Miss Maui Pageant and compete for a scholarship. Her adrenaline rush did not let her get the best of her while she was posing for the cameras or explaining to the judges why she should be Miss Maui.  This earned her a $10,000 scholarship that  she plans to use for graduate school and her future.
Aiwohi, born and raised on Paukukalo Maui, is the middle child of two brothers and  two sisters. Growing up Aiwohi enjoyed singing, spending time with family. She keeps herself busy with the Oahu community singing at  Tiki's in Waikiki. Aiwohi has been singing since she was a child, and she is not stopping anytime soon. She participates in vocal classes today and does the extra work to make herself better.
Aiwohi sets an example as a role model. She donates money for the Children's Miracle Network at the Kapiolani Medical Center. Aiwohi feels as though she is representing many people when she walks around and embraces her life. With the title of Miss Maui, she has something to look after and respect.
"It's a very rewarding feeling when your giving back to the kids and not taking money for yourself but doing work for others and representing my personality," she said.
Aiwohi who is fond of children is majoring in elementary education at Chaminade University and is undecided on her future. Winning the pageant made everything much easier for her $10,000 paycheck for her future.
"Winning this competition made me realize that I do not only represent myself but I represent Chaminade University, Oahu and Maui," Aiwohi said.
With Aiwohi gaining confidence from this pageant, she is not scared to represent Maui in the Miss Hawaii 2012 pageant on June 9.
"Preparing for the pageant takes a lot of commitment and hard work," Aiwohi said.
When she takes the stage again, she does not plan to have so much adrenaline rushing through her. She would like to feel more calm and collected. Working out her body twice a day and holding a strong diet she hopes to be even more prepared for Miss Hawaii.
Miss Hawaii pageant will be held June 9 at the Hawaii convention center. Aiwohi will be representing Chaminade University and Maui as she lights up the stage yet again.
About the Contributor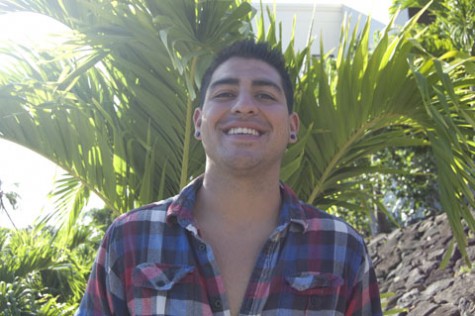 Mathias Berbel, staff writer
Mathias Berbel grew up in Simi Valley, Calif., and has been living in Hawaii for the past three years. He plays soccer for Chaminade University as well...