Stay-at-home soccer moms in fishnet stockings and booty shorts transform into these rough and tumble, hyper competitive, and aggressive chicks on skates who don't hesitate to throw hip chucks and elbows at each other. They dragged mini suitcases behind them as they excitedly talked about the roller derby game they were about to partake in.  In their suitcases were heavy padded elbow and kneepads, helmets covered with derby girl stickers and skates with florescent green and pink wheels that looked like they have been over-used.
Welcome to the world of Hawaiʻi roller derby, a little-known and less-appreciated sport played on random cement basketball courts around the islands; not for the prestige but for the love of a competitive sport that is so bad-ass.
Roller Derby is one the fastest growing female dominated sports in the world and was brought back to the Hawaiian Islands through Pacific Roller Derby in 2008. In 2009, Pacific became apart of the Women's Flat Track Derby Association (WFTDA). WFTDA is the international governing body and membership organization for leagues to network. Pacific's membership with WFTDA allows the local team to compete internationally with teams from Seattle, Portland, San Francisco, San Jose, Santa Cruz, Los Angeles, Denver, United Kingdom, Canada, Australia and Germany.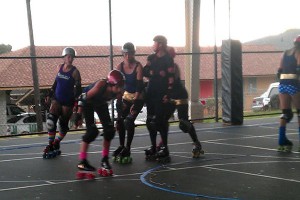 "The Derby community is a dynamic group of women having a ridiculous amount of fun," said Katie Garcia, a military wife and stay-at-home mom. "I get on the track and skate like a little kid. It's not exercise; it's really as close as I can get to flying. We (derby girls) are serious athletes, smart businesswomen, and we certainly do have our share of goofing off."
Garcia, 31, is from San Francisco home to B.A.D., a top-10 derby league. She is a military wife and has been moving between states since she got married. When Garcia moved from Hawai'i to Key West in early 2008, Pacific Roller Derby was in its infancy. She explained that she would have joined the derby league in Key West but her kids were too young and her husband was stationed on a boat with the Coast Guard. She said that she did not share the same interests as other traditional military wives.
"I didn't want to end up watching Oprah all day either," Garcia said. "Derby is a subculture. You gain 40 instant best friends with strong women and good leaders."
When Garcia and her family moved back to Hawaiʻi in May 2010, she joined Pacific as soon as she could. Part of the fun of being in roller derby is having an alias.
"I'm actually a firm believer in taking lots of time to choose your name, or letting your teammates name you," said Garcia, whose derby name is Melee Antoinette.
She explained that Melee Antoinette is inspired by the play Marie Antoinette. She studied the French language and the language is sort of her thing. Alexis Morales (Axle Greaser), 32, is a hair stylist and bartender and chose a name that a regular customer at the bar she used to work at gave her. Her mother, Armida Coughlin (Lucky Punch), 48, explained that the original derby name she wanted, Pancho Villa, was already taken. Coughlin is a massage therapist and an aesthetician and her and her daughter both skate for the South Shore Sirens.
Garcia skates for the Leahi Diamond Dolls and is a part of the Hulagans, Pacific Roller Deby's MVP team that travels and plays WFTDA's international teams. The Hulagans will be traveling to Tucson, Ariz., to represent Hawai'i for the invitational Dust Devil Tournament from April 13-15.