A new place for good food around Chaminade
Two months ago, a new Vietnamese restaurant opened along Waialae Avenue in Kaimuki called Fairwood Drive-in & Pho 27, which is located near the Longs Drugs store at the Kaimuki Shopping Center. This gives Chaminade students a new option for lunch from long lunch breaks.
The restaurant is divided into two distinct parts, a Chinese restaurant, called Fairwood Drive-in, and a Vietnamese restaurant called Pho 27. Although they are two restaurants, they have the same owner.
A clean, soothing atmosphere immediately awaits upon the arrival of each customer and you feel as though you are stepping into a contrasting space from the outside world.
As you step into the restaurant, Fairwood Drive-in is situated in the front of the restaurant and Pho 27 is situated in the back. Both areas, the front and the back of the restaurant, have a clean interior design and mainly consists of white, which provides the sense of calmness.
As you walk into Pho 27, you receive a warm welcome from the waiters in the restaurant as they direct you to an available seat. The employees were not afraid to come over to talk to customers as they constantly make sure your cup of water was always filled. They made sure your dining experience was one to remember.
The surrounding atmosphere is dominated by soft yellow and white colors to give the feeling of a relaxing environment. Comfortable chairs, unique lighting and interior designs from Hong Kong and a fascinating view of Palolo Valley instantly becomes an eye candy.
"We wanted to do something completely different, something that people would remember," said Victor Jian, general manager of Pho 27.
"Everyone nowadays is stressed out about work. I want them to come in and relax and have questions about the interior design," said Jian.
Pho 27 has a wide variety of food available. You can choose from appetizers, salads, noodle soup, rice plates, cold rice noodles, French bread sandwiches and the standard Vietnamese dish called pho. If you like to add additional sauces on the side, there is a decent amount to choose from. No matter whether you like to add shoyu or hot sauce, there is something for you.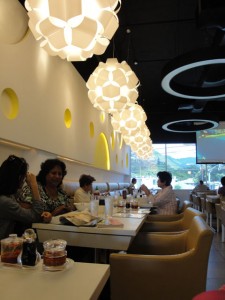 Pho comes in three sizes (medium, large and extra large), as well as up to three choices of meat and pho specials. The price ranges from $7.50-$11.75. The dish is delivered to the customer as a smoking hot bowl of delicious noodles and a large amount of vegetables offered on the side. You are given a choice of cooking the meat, served on the outside of the noodles, or served inside the bowl of noodles already fully cooked. The entire bowl of pho satisfies your craving for a hot, warm bowl of noodles. However, what makes the Pho dish from here exceptionally outstanding is the Pho broth.
"Our broth has a very clean taste," Jian said.
According to Jian, the restaurant uses a lot of vegetable stock and a small amount of msg. While the major responsibility of enhancing the pho broth flavor is on the vegetable, the restaurant only uses a small amount of msg as seasoning.
For first-time customers, Jian recommends a dish that combines cultures of the Japanese and Vietnamese: the French bread sandwich. If you are not too hungry, but still want to have a small dish to eat then the French bread sandwich would be the dish for you. The crunchy outer layer of bread with the unique ingredients makes the consuming experience fulfilling.
Alex Bali, a Chaminade Fall 2010 graduate, mentioned that she liked the overall experience at Pho 27. According to Bali, she liked the whole atmosphere and the food.
"I like how it is close to school and to where I live," Bali said. "I wouldn't have to go somewhere far to have something like this."
"It was really good for the amount of price," said Demyla Rodriguez, a current Chaminade graduate program student." The customer service was really good, they're always on top of things, they're always filling your water and making sure your dining experience is awesome. Overall, great experience and I would definitely recommend it."
Pho 27 consists of a modern design and collaborating the Japanese culture of design with the Vietnamese culture of food. The restaurant is full of surprises and is suitable to go with friends, family or your significant other.
Fairwood Drive-in and Pho 27:
3221 Waialae Avenue
Suite 21
Honolulu, HI 96816
Phone Number: (808) 738-0027
About the Contributor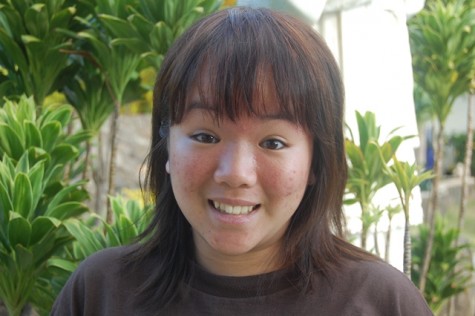 Claudia Chan, Staff Writer
Claudia grew up in the busy city of Hong Kong and came to Chaminade University two years ago to pursue her college degree. She is currently in her third...