Chaminade gives back with Adopt-A-Highway program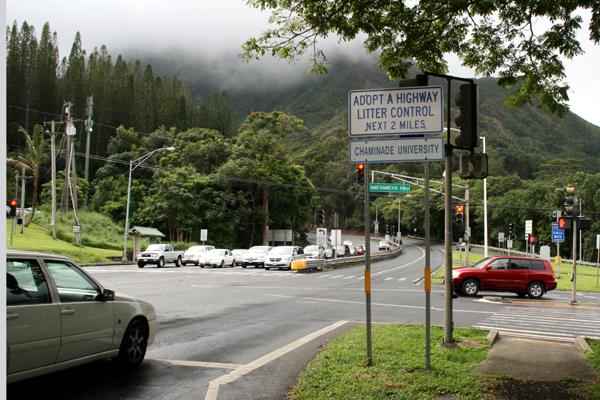 For the past two years, volunteers from Chaminade University have periodically been on the Windward side of Oahu cleaning a two mile section of both north and south bound lanes of the Pali Highway. Chaminade has pledged, through the Adopt-A-Highway program, to maintain the section between the Kalanianaole intersection stoplight and the town-bound lanes lookout before the tunnels.
"We do this to help the environment, but also to get out there and make a difference," said Shauna Pimentel, who is the associate director of admissions and the Adopt-A-Highway coordinator for the university. "Chaminade is one of the smallest universities on Oahu so it's good to get our name out there and show we care."
The Adopt-A-Highway cleanup occurs twice a semester and is often done by request from a participating club or group of people. In the past, small groups of about five to eight people have helped in the cleanup but more people are always welcomed Pimentel said. Previously, participants included the Chamorro Club, environmental studies students, and the Chaminade LIFE group.
The Adopt-A-Highway program is delegated by the Department of Transportation and is a statewide effort to keep the highways clean. Organizations like Chaminade University, agree to maintain a two mile section of a highway for a minimum of two years. The state provides trash bags, gloves and it is also responsible for picking up the full bags of trash after the cleanup. Before budget cuts, the state would provide high-visibility vests, but no longer does so, Pimentel said. However, participants are still strongly encouraged to wear high-visibility cloths.
Safety is a top concern so cleanups occur as early as possible and when there are fewer cars on the roadway. Students meet at Chaminade at about 6:30a.m. and start cleaning shortly after 7am. According to Pimentel, the goal of starting early is to lessen the chance of a dangerous encounter with a vehicle and avoid any other hazards involving motorists.
"We only clean up the areas that we are comfortable with," said Pimentel. "For example, there are parts before the tunnel that don't have a shoulder, we try to avoid those areas."
According to the Department of Transportation, the goal of the program is to allow environmentally conscientious citizens to do their part in making Hawaii cleaner. Participants improve Hawaii's image and prevent pollutants from getting into streams and oceans.
"We are always looking for more students and clubs who are interested in participating in the program," Pimentel said. "We can set up a weekend for you to help out. Whether an entire club wants to organize a cleanup or just a group of students, we can set one up."