Chaminade grads launch 'The Box Jelly' coworking space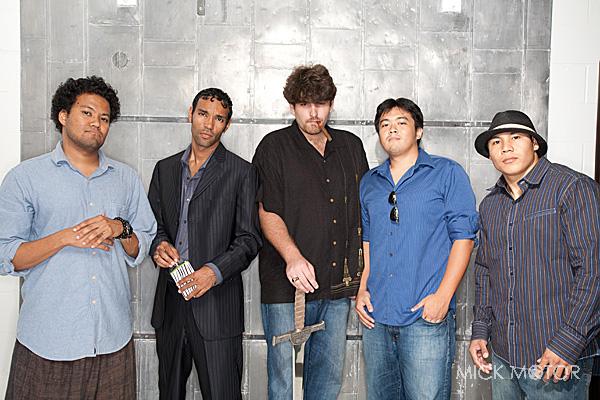 Imagine a place with great coffee, color printing, fast Internet, large office desks, comfortable sofas and all kinds of network connections you might need. People call it "a co-working place," or The Box Jelly.
Hason Scott, graduated from Chaminade University of Honolulu, one of the founders of The Box Jelly, defines co-working is a collective space where the self employed or small business owner can rent out desks, event and meeting space.
The term "co-working" was started from San Francisco in 1999, and now more than 400 co-working spaces exist worldwide. Scott and five of his friends started the first co-working place in Hawaii in July 2011. They want to offer a flexible work place for people to exchange ideas and knowledge sharing.
"We have been serving a lot of startups," Scott said. "They just start creating their business and doing it on a budget. They come down here for meeting or meet other startups. They can share how to deal with the issues, information, and help each other to be successful."
Scott, Tony Stanford (another founder of The Box Jelly) and Rechung Fujihira (the CEO and Enzyme of The Box Jelly) were recently graduated from Chaminade University, wherethey met each other through the Hogan Entrepreneurial Program. Fujihira and Stanford won the Hawaii Venture Capital Association's Yung Entrepreneurs Award this year.
"If it wasn't for Hogan, we wouldn't have any of this." Scott said.
Besides the basic business training from the Hogan program, the strong support from Dr. John Webster (the director of the Hogan program) helped them slowly build up the business. They got the chance to talk about The Box Jelly with different entrepreneurs they met from Hogan program, keep connections with them, and started hosting their own events.
Scott's idea was offering a place "professional but stylish to get work done".
Stanford started the idea when he was sitting at the airport lounge in Seoul for a layover for 20 hours. He realized that people were more friendly inside the airport lounge than outside by the terminals, so "an airport lounge outside the airport" came to mind to creat a similar type of "open, friendly" atmosphere.
The team, began researching until the word "co-working" showed up.
"We went to California and New York City, visited other co-working places and got good data from them," Stanford said. "We got a bettering understanding on some stuff we didn't know, and some of our assumptions were turned up side down."
The Box Jelly is now comprised of team members Scott, Stanford, Fujihira, Christine Koroki, Ben Leong, and John Watkins.
People can go to The Box Jelly by hours charge ($7) or join the monthly membership ($300).
"We want you to be here. We want you stay. We're not gonna hide the plugs or try to kick you out after certain time," Scott said.