Opinion: Black Friday Craziness Is Not Worth It
Friday was my first Black Friday experience in the United States of America. And it will be my last. I love shopping and a good sale, especially if it is over 50 percent. But no amount of savings could draw me back into that craziness.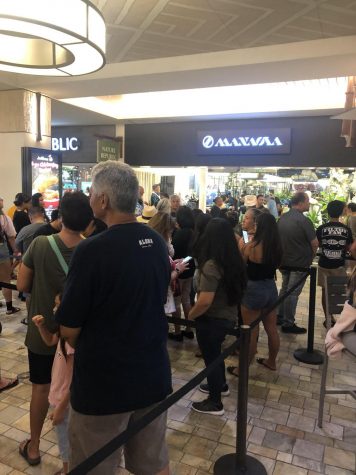 However, if you are going to celebrate Thanksgiving the day before Black Friday, we need an Apologetic Saturday also. For a Brit who has only been in the U.S. for three Thanksgivings, it's confusing to be celebrating gratitude to one another by sharing a whole day of loved ones and great food, followed by throwing that beautiful day out the window by becoming a day of hatred, selfishness, and chaos just one day later.
But I had no clue about all of this until I waded into the throng of stressed-out shoppers on Friday morning.
I arrived at 10 a.m. to the Ala Moana Shopping Center, and it was like it was the last day on earth. I had to wait to get into the mall itself, finding myself waiting for 15 minutes to even see Macy's opening doors. People have the grit to clearly wake up hours before the opening time and wait outside the store they want. And what even more confuses me is that it wasn't just the well-known stores that were overcrowded. It was all the little stores that I'm pretty sure didn't have any relevance to some people but because of the sale, it was a priority. Watching young teenagers searching through lamps and light bulbs amused me.
The moral of it is, to even get a chance at the good stuff or anything at all, you must arrive at least one or two hours before opening times. Because people are willing to put their life on the line to fight you and get what they want, even if they don't need it.
Before even arriving in the mall, be prepared to be patient and calm, as finding parking is most likely the worst thing known to man. We drove around the parking lot 15 times to find a spot that we thought we had, and then find an elderly lady somehow drifted perfectly into that spot like it was "The Fast and the Furious." I do not know what happens on the day after Thanksgiving, but now the elderly are drag racers? To be successful on this day of chaos, you must either catch a bus, walk, ride a bike or arrive 12 hours before and spend the night in the mall's parking lot.
You can be a very calm and collected person, but once Black Friday hits, it's every man for himself. I adopted the trick of the trade in being rude and pushy. People around me were rushing to certain areas, and I panicked and felt like I was being left out, so I ran and pushed and trampled my way into wherever the more people were, because that's obviously where the good stuff is. I am someone who has to really love a piece of clothing to confirm with my inner self that it is okay to purchase. But on Friday, I had to convince myself that it's a nice color, nice material, it will fit me well and I love it, all in the space of five seconds. Otherwise that time I wasted thinking about it cost me something I could have really liked.
And the checkout line is where your true colors are shown. How long are you willing to wait for the clothing or items you have collected that have tickled your fancy? How much time are you willing to stand for, moving just three steps forward every 10 minutes. This tested my character; I left four stores because of the line. After fighting so many people to even pick items out, I gained my humanity back and realized that the wooly hat and puffer jacket was not worth it because I live in Hawaii. But they was 60 percent off, so I went back and waited 25 minutes to purchase it.
And at that moment I realized, I am just as bad as everyone else, and I have now partaken in the full American experience to Black Friday shop.