Review: VR Wows at Chambers Escape Games
When a company is able to force its clients to solve stress-inducing puzzles while being bombarded by a frenzy of sharks, and those clients come out of the ordeal wanting more, gold has been struck.
Chambers Escape Games (550 Halekauwila St. Unit #201), which launched in January, takes the standard escape room experience and launches it to new proportions through its utilization of virtual reality. Normally, players are given two tasks when beginning any other escape room: breaking out of the space within a certain time limit and trying to feel immersed in the set pieces presented. For those visiting Chambers, however, that second assignment is thrown out of a window as the company's high-tech arrangement will have players feel like they have transported to another dimension as soon as they put on the gear.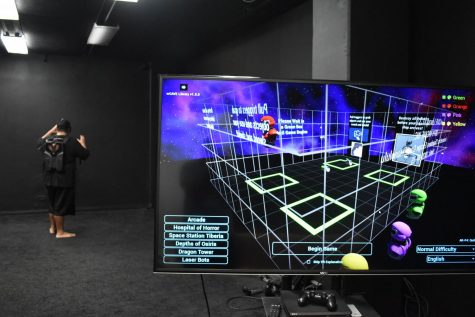 Players will be given three sets of equipment to wear before starting a playthrough. Of course, the classic virtual reality headset and controllers make an appearance. (Note to new users: The headset can be a bit clunky for first-time virtual reality users.) The head turner of the three accessories, though, is the lightweight laptop fashioned like a backpack. This piece gives the processing power needed to run Chamber's elaborate adventures while determining where the wearer stands in the virtual world.
Chambers has four full escape room experiences (one live and three virtual), all of which have to be completed within 45 minutes to an hour. Of the four, my friends and I played the VR adventure Depths of Osiris, a journey through an ancient underwater temple brimming with sharks and artifacts. The way the game was able to employ depth and sound through the headset had us stepping over imaginary stone slabs and ducking under non-existent pipelines as if we were afraid to bump into the environment.
The puzzles for this particular adventure were difficult, but in a technical way rather than logical. Coming up with the answers to the game's puzzles represented only a slight fraction of the session. Carrying out the methods to reach the solution was what devoured a great amount of time and energy from my group. For this reason, teamwork and communication is key at Chambers unlike other escape room facilities, where one can solely rely on the smart friend of the pack to progress.
Up to four people at a time can participate in a virtual escape room, and with how the games are designed, adventures become easier and more enjoyable with the more people playing. Fortunately for Hawaii college students, discounts are available so that they can experience each journey with as many friends as possible.
The regular price for one person is $45, but for students, the cost drops to $30. Along with that deduction, other discounts can be used whether one is in the military or a Hawaii resident with a legal document, such as Hawaii I.D. or driver's license, to proves so. For those interested in engaging in the Chamber's escape room experience, one must reserve a time slot through the company's website.
Chambers Escape Games takes the next step of live entertainment by making it virtual and larger than life. For those who are fans of stunning technological displays or fun and chaotic moments with friends, Chambers is an experience too good to let escape.