Coping With My Mom Fighting Breast Cancer
Normally, going home for Thanksgiving break is a moment to cherish. The typical college student gets to spend time with family and friends back at home, all while enjoying a feast filled with mouth savoring foods. I got the opportunity to fly back to Los Angeles to be with my family and friends. However, the main reason was not to enjoy stuffing and turkey. Instead, I spent my break helping to take care of my mom who is battling breast cancer.
Having to grow up while raising a child was rough. My mom was only 16 years old when she gave birth to me. Yet, my mom has always embodied strength and poise simultaneously. I have rarely seen my mom break or crack under pressure. Instead, she takes on every obstacle as a growing experience and never ceases to bloom into a stronger, wiser woman.
Our relationship has been long distance for the past decade. Texts are more common than phone calls or video chats. We are a family that loves to text. But the message I received in early August, changed my life.
HER2-positive breast cancer is a breast cancer that tests positive for a protein called human epidermal growth factor receptor 2 (HER2), which promotes the growth of cancer cells.
"I have HER2 Breast cancer," my 46-year-old mom texted me. 
The last time I was at home to see my mom and my sisters, was two years ago. Coming back home under these circumstances was emotional. For the first time in my life, I was going to see my mom weak and needing help, when she is always the one helping me when I am sick and hurting.
My mom  was rarely sick and had no health issues to be concerned about. Then one day, she felt a lump in her breast. Out of fear, she waited weeks before going to get checked. Her mother passed away from ovarian cancer, so I was able to only imagine what could have been running through her head. Her closest friends urged her to go to the doctor. One even threatened to make the appointment for her so she would stop making excuses and get examined.
On Oct. 24 my mom went and got an ultrasound done to check to see if her lump had decreased. It went from two and a half centimeters to almost nothing.
I was able to be  in Los Angeles during her fourth chemo treatment. And it was very strange to sit there and watch "poison," essentially get pumped into her body in order to kill cancer cells. I sat there and was in awe of her. Although her long curly hair had all fallen out and her weight had dropped significantly, I still saw beauty and strength in her eyes. She joked around with the nurses, despite her battle with this disease.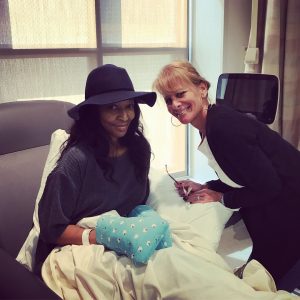 "Your mom is a hoot," said Mica Velasquez, one of her nurses at Cedar-Sinai. "She brightens our day up. The pleasure [ in taking care of your mom ] is all mine."
My mom's chemotherapy always leaves her feeling weak and tired for at least nine days after treatment. This time, she was feeling stronger and even ate on a regular basis. I made sure to cook some of her favorite foods like salmon, baked potatoes, corn and shrimp tacos. In the past, her appetite would decrease to the point where she would lose a significant amount of weight due to a lack of food and even water. Despite her taste buds not allowing her to fully enjoy the meals, I was very happy to see her eating what I had prepared for her.
Because my mom had felt so weak after her past chemo treatments due to dehydration, I made sure we got her to Cedar-Sinai Tower Hematology Oncology Medical Group every-day to get an IV infusion of liquids. Since drinking would cause my mom pain due to the cold sores in her mouth and difficulty swallowing, she would avoid drinking all together. So making sure she got to hydration made her feel stronger day-by-day.
She even woke up early on Thanksgiving , and started dancing salsa while we prepared the pernil. Her energy lasted only about 30 minutes before she needed to lay back down. But seeing her dance and laugh brought tears to my eyes.
Battling with a heavt school schedule and watching my mom undergo such a difficult road, made Thanksgiving very different this year. I was grateful for more than the food that was beautifully sprawled on the table. I was internally thankful for my mom's strength through this time of her life. And it helped me to remember that no matter what I am going through, I come from a bloodline that is virtuous and strong.