Why I'm Thankful for the Language Barrier Between my Grandparents
Grandparents in movies are portrayed as Granny and Grandpa who would have freshly baked cookies ready on the dining table, along with a clear glass of warm milk. In my reality, Granny was Nana and Grandpa was Tata. A Filipino delicacy, kakanin, would lay flat on a bed of banana leaves inside of Nana's silver tin, washed down with a Pepsi straight from the can.
Although I had a substantial meal ready for me whenever I visited, there was still an awkward silence around the house because we barely spoke to each other.
Nana has only said "Hello" and "I don't understand" to me for 18 years, while my Tata managed to grunt out "Don't have a boyfriend yet," during every visit. After leaving their house, I'd feel empty and promise myself to try and speak to them the next time we saw each other, although each encounter remained the same. My feelings remained a secret to them, because a simple nod of their heads and a confused expression would break my heart.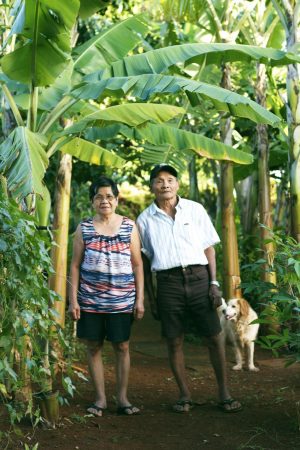 Despite the language barrier and cultural difference between me and my grandparents, it helped enhance our relationship because it allowed me to put more effort into getting to know them. If my grandparents and I spoke the same language, it would've been easy for me to visit them and only know them on the surface as my grandparents. Because I pushed through our differences, I was able to visit them every day, listen to their stories about the past, and learn their personalities. 
Before this whole realization, I resented my grandparents on my dad's side for a long time during my childhood because they were completely different from the type of family portrayed in the movies. There was absolute silence between them and, once in a while, I received hugs and money in envelopes on holidays. To other people, money might have been the perfect present, but for myself, I wanted a piece of my grandparents to hold onto: a family heirloom or even words of encouragement. My Tata intimidated me with his cold stare and the way he hid away from the rest of the family, outside with his radio and a can of beer.
In my senior year of high school on Kaua'i, I studied hard enough to graduate on the honor roll. That night all of my relatives came to visit and give hugs, leis, and take pictures. My Nana pulled me to the side and whispered in my ear, "I love you Jenny. I'm so proud of you." In all of my years of visiting my grandparents, graduation night was the first time I've heard my Nana say that she loved me.
After that night, my goal was to get closer to my grandparents over the summer before leaving to college. Every morning, I would drive to their house on Kaua'i in Kapa'a to spend my whole day with them. Visiting them was hard for me, because it made me realize that my grandparents would one day pass away. Realizing this filled me with anxiety but also motivation for getting to know my grandparents despite our cultural differences. Having cultural differences and language barriers shouldn't have kept myself from having a personal connection with the people who have helped raise me.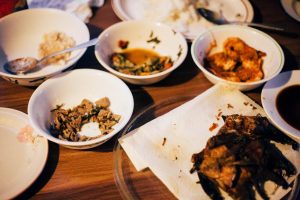 I visited my grandparents every week during the summer and it was difficult to see them. English is the language I'm fluent in, so it was hard to have a long and meaningful conversation with them. Instead we all gathered outside and ate lunch at 12 p.m., the same time every day, on a brown wooden table, while Tata played the Filipino station on his vintage radio. Oftentimes, my Nana would wipe away her tears when we were eating, because she was overwhelmed that I continued to visit her and Tata. Before I would leave to go back home, she would cook me batches of kankanin and always hug me, saying, "Thank you Jenny," but she never explained why.  
At the end of summer, my Nana decided to give me a piece of jewelry that used to be hers: a gold ring with a single diamond, surrounded by carved flower petals. And although I've always wanted a piece of jewelry from my grandparents, the experience that I had with them over that summer was richer.
I'm grateful for the language barrier, because I was able to communicate with my grandparents with actions instead of words. They were able to feel the love I have for them despite our cultural differences. Whenever a long break comes around, it is my priority to visit my grandparents as often as possible because I love them.