Review: Chronic Tacos Crunches Competition
Lunch time on Kapahulu has gone to the Chronics. Chronic Tacos, that is. This California-based chain opened its first Hawaii location a few months ago near Safeway on Kapahulu Avenue.
This Mexican grill, while not much to look at from the outside, has huge flavor and portions that will demolish any kind of Mexican food craving that may strike. From tacos to tostadas, Chronic Tacos has it all. However, remember to go on a completely empty stomach, or good luck finishing the enormous portion of food.
Move over bland proteins of the past, Chronic Tacos is pushing the flavor envelope with its marinated protein options. These traditional Mexican-style meats shine in any dish with bold flavors that make other Mexican fast food restaurants pale in comparison. Taco Bell and Chipotle better step aside or step up its game, because Chronic Tacos is taking Hawaii by storm.
The ordering style is reminiscent of Subway, with a glass covered assembly line and endless possibilities. This fast-paced ordering may seem intimidating at first, but employees are happy to help anyone who may be a little confused by the array of selections. The process starts by picking the star of the dish, a protein and the base: taco, burrito, bowl, etc.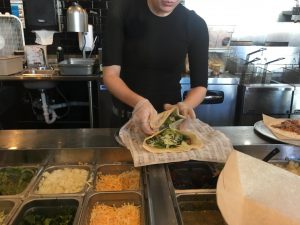 The available protein options range from traditional Mexican-style options like carnitas (slow-cooked pork), or carne asada (marinated grilled steak) to less traditional options like beer-battered fish and shrimp. I chose pollo asado, its "all natural marinated grilled chicken," according to the menu, in a burrito base.
For all the health nuts, Chronic Tacos does have vegetarian and gluten-free options available noted on its menu by a green leaf or yellow slashed wheat symbol. 
Once the base and protein are laid out, the options keep on coming. It is then time to choose the type or rice and beans that will go into the burrito, bowl, taco, or item of your choice. Veggies, condiments and salsas are the next to join the mix. For this review, I put all the veggies, two salsas and guacamole, you know, for research purposes.
This restaurant is moderately priced considering the amount of food and the quality. The meal options are no more than $10 on the menu boards except for three specialty items that max out at around $11 before taxes. The baby-sized burrito I got came out to a little more than $15 with a drink, chips and salsa.
Overall, the food was flavorful and fresh. There was a nice bite to the fresh cilantro that was in the burrito and the chicken was to die for, unlike Chipotle's bland grilled chicken. Normally with huge portions one is left feeling weighed down by the meal; for Chronic Tacos it was surprisingly light and guilt-free. The love that the people of Chronic Tacos put into their food truly makes a difference and it is delicious.
Chronic Tacos is better than any fast food Mexican restaurant I have ever tried.