#MeToo: A CUH Survivor
[Editor's note: This column was written by a Chaminade student who wished to remain anonymous. Due to the sensitive nature of the topic, The Silversword has agreed to withhold the writer's name.]
Women and men all over social media are posting messages using the hashtag #MeToo to share a "commonplace" on social platforms to express similarities with other victims, who have been sexually assaulted, harassed, and treated with misconduct.
Following a wave of sexual assault allegations that became public against movie producer Harvey Weinstein, the #MeToo movement took off. On Oct.15, actress Alyssa Milano, posted a screenshot picture with a tweet stating: "If you've been sexually harassed or assaulted write 'me too' as a reply to this tweet." The movement woke women and men around the world.  
#MeToo sheds a light on the magnitude of sexual abuse. For years women have had to deal with sexual assault and harassment in silence, shame, repercussion, or others in disbelief. In fact, many women have become so numb to the to the situation and individuals like myself tend to forget it ever happened. There's no doubt that many women find it very difficult to acknowledge that they themselves are victims but the #MeToo campaign encourages individuals from all walks of life, who have been mistreated as such, to speak up and take a stand against such behaviors. 

Many women and men who are mistreated stray away from disclosing their stories and experiences because they are afraid about how people will view them. In my situation, it took a year and a half later to reveal. It seems as if most individuals like myself (at the time) don't report being harassed, or abused due to the uncertainty of how the situation will be handled, but the #MeToo campaign enables individuals to put the focus back on victims at the same time help amplify their voices.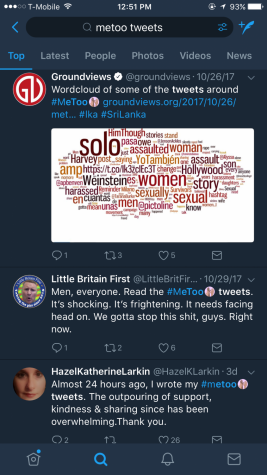 I was raped at my old intermediate campus, during the fall of freshman year of high school. I agreed to only meet up with him to only hang out and talk by the benches of the campuses mini garden until I was threatened to go behind an entrance area that led to a gym door that was blocked by a brick wall. I lost my virginity that day. I remember whimpering for help but it was a Saturday afternoon, no one was in sight and the nearest house was at least a quarter mile away. Parts of what happened that day are still a complete blur, but I do remember him telling me to never talk about what happened and forced to cut off all communication between him that day. That was the last time I saw him.
I buried this incident for about a year and a half and came forward about my experience during my sophomore year of high school. I was unknowingly reported to the office by my teacher who had overheard my story during a philosophical group discussion in class.
A couple hours after the report had been made I was called into the office. Beyond confused as to why I was being called into the office, a line of staff and officials were waiting for me in a meeting room. As puzzled as I was, my counselor at the time reached out and asked about the rape; and  I broke down in fear. My uttermost fear was my parents finding out. I was afraid that they were going to take the blame for the rape, and that they were going to put the blame upon themselves that they were not doing their jobs as parents to protect me. I did not want them to feel that way. Between police officials and my high school staff, and an hour of begging and pleading for them to not reveal the information to my parents. Within a half hour my dad had arrived to the scene.
"Why didn't you tell me? I'm your parent. Why didn't you ever go to the police about this? Why did it take you so long to speak up?" he asked in shock and fear in reaction of the whole news. There are myriad reasons why survivors might not want to disclose what happened to them. In some way, individuals are able to handle it in silence but that only works to an extent.
Reporting my own experiences felt traumatic due to the flooded questions from my dad, school officials, and the reporting police on site. But during the year and a half after the rape, I met my current boyfriend of almost seven years who helped me overcome the challenges that preceded after the experience. Although it was reported by my teacher, sharing the rape incident has only motivated me to encourage others to get help whether it's talking to a teacher, a friend, or a counselor.
Reporting what happened removed so much collected emotion and pain that latched onto my conscious. Although I was forced to face my parents about the situation, I realized that although I'm able to handle it on my own. There is help. No one should ever feel they should go through it alone. 
While many individuals are using the #MeToo hashtag, many men are coming forward by using such hashtags of – #IHave, #IDidThat, and #IWill to confess they have witnessed, condoned, or engaged in sexual misconduct and promising they will change their idea and future behaviors of the matter.
#MeToo amplifies a matter that happens every single day. In the wake of the awareness, this is a reminder to anyone who has ever been in a position of sexual misconduct in any way, shape, or form, should understand that the time is here to end the silence about the things that matter.