Top Study Spots Near Chaminade
As a Chaminade student, studying at the library can get crowded and boring. It's time for a change of scenery when the library is too quiet and all the study spots on campus are taken. There are other areas near Chaminade that allow students to study comfortably in cozy coffee shops or hipster boba places. All the cafes listed are near in proximity and perfect for a university student's budget. Leave the library, get on the bus or in the car, and discover the top study spots that have always been available to you.
Glazer's Coffee
Address: 2700 South King St., Honolulu HI 96826
Hours: Monday – Thursday: 7 a.m. – 10 p.m., Friday: 7 a.m. – 9 p.m., Saturday – Sunday: 8 a.m. – 10 p.m.
Price: $ (Affordable)
Bathroom: Yes
Parking: Street (Free after 6 p.m.)
Size: Approximately 14 tables
This cozy coffee spot is ideal for studying because of its inviting atmosphere. The walls are adorned with eclectic portraits and paintings, that gives the area character. Free wifi is provided underneath the name glazers_coffee along with electrical outlets near every table. It is best to visit the cafe early in the morning, preferably before 10 a.m., to save a seat and dodge the regulars who stay in for hours. Pack a sweater or cardigan because it does get chilly since there is central AC. Also, keep in mind that the cafe has music playing so bring a pair of earphones or something to block out the noise.
The menu is simple and affordable, with the cheapest drink costing $2.45 for an espresso and the most expensive drink costing $4.85 for ice blended drinks. Also, it is an additional .50 cents for soy, almond milk, or breve. Most of the tables are shaped differently accompanied with odd shaped chairs that are surprisingly comfortable. There's also bar seating by the entrance, facing the street. Glazer's Coffee is a great spot for studying if you're willing to wake up early to catch a seat and stay in for hours catching up on assignments.
Teapresso Bar
Address: 3220 Waialae Ave., Honolulu HI 96816
Hours: 9 a.m. – 10 p.m. Open everyday.
Price: $
Bathroom: Yes
Parking: 5 parking stalls
Size: Small
This popular boba shop is the closest to Chaminade since it's only a few blocks away. Ample seating is available with two areas of bar seating, along with three benches and two round tables. Teapresso rarely gets crowded since most people come near lunch hour for a few minutes while they wait for their drink. The menu is extensive and offers many options, ranging from iced or hot tea, slushies, sandwiches, and more. Outlets are conveniently placed near the tables along the wall and are useful if you plan to stay for awhile. This boba shop also has games available when a study break is needed, and customers are also able to make their own popcorn. Teapresso is a fun study spot that is convenient and comfortable for students.
Island Brew Coffeehouse
Address: 1137 11th Ave., Honolulu, HI 96816
Hours: 6 a.m. – 8 p.m. Open everyday.
Price: $$
Bathroom: Yes
Parking: Street/Paid parking in private lot
Size: Medium
This coffee shop is one of the larger areas when compared in size and has the largest menu of all the other study areas. This area has more than 15 tables, along with tiny reading nooks with hanging chairs. The atmosphere is noisy, since a lot of customers are having work meetings or study groups. As for price, the items on the menu are a bit more expensive than the other options listed above, with the cheapest drink being a lemonade or an Arnold Palmer for $2-$3. The cafe gets busy around 11 a.m., so it's best to come early and establish a spot.
Dragon Tea
Address: 2919 Kapiolani Blvd., Honolulu, HI 96826
Hours: 11 a.m. – 10 p.m. Open everyday.
Price: $
Bathroom: Yes
Parking: Yes (Free)
Size: Small
Located in the Market City shopping center, this boba shop sits between food eateries and Longs Drugs. There is lots of seating available, with an outlet attached above every table that allows students to charge their devices and stay as long as they want. The boba shop is rarely busy, except during lunch time because of Dragon Tea's weekday lunch special from 11:30 a.m. – 1:30 p.m. (entails a second drink for $1). The second drink only applies to a large-size drink and must be the same as the first order. Yelp provides a 10 percent off coupon of your purchase, when checked in to the business. There is a public bathroom, but a code must be provided from one of the workers. Dragon Tea is convenient for students who like to study with groups.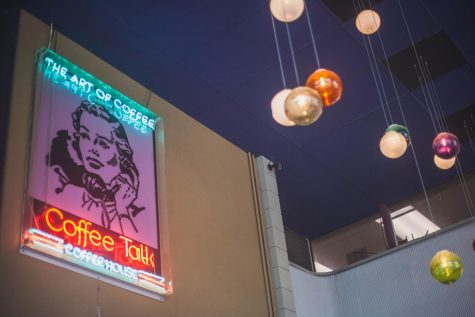 Coffee Talk
Address: 3601 Waialae Ave., Honolulu, HI
Hours: 6:00 a.m. – 6:00 p.m. Open everyday.
Price: $
Bathroom: Yes
Parking: Street parking
Size: Large
This hipster coffee shop is one of the most popular areas to visit for studying because of its large space and cozy environment. There are lots of different types of seating, whether it be inside or outside. Inside Coffee Talk, hidden nooks and different sections provide unique areas to study. Bring a jacket or dress for comfort, because this place has air conditioning and can get chilly. Outlets are near the tables that are closest to the wall, and it can be difficult to snag these spots after lunch time; prime time would be around 9 a.m. Surprisingly, only a few people chill in the coffee shop all day, so people are always coming and going. Coffee Talk sells sandwiches and pastries that will replenish your appetite along with their coffee. But, keep in mind that outside food is not allowed. The noise level is louder than usual because of the coffee machine, customers chatting, and people coming and going. This place is ideal if you feel like visiting Waialae Avenue before class to study.