Top 10 cheap food places to eat on Oahu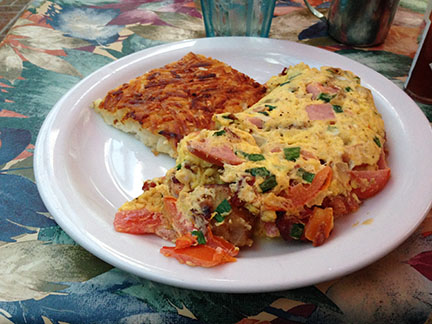 Oahu is also known as the gathering place. So of course there is no shortage of places to eat. Everywhere you look there are abundance of restaurants, each having their own different types of food from every ethnicity you can think of. So get ready to sink your teeth into the top 10 cheap places to eat on Oahu.
Mitsu-Ken
Mitsu-Ken is located in Kalihi. It is a Japanese okazuya place where it is known for its garlic chicken. It is a crispy golden brown fried chicken drenched in their secret garlic sauce. It is a must get for anyone, especially when for about $6 you get a meal worth eating.
Cinnamons Restaurant
Cinnamons is a breakfast place locate both in Kailua and Waikiki. It's a small restaurant serving up some of the best breakfast on the island. It is known for their red velvet pancakes. It is like eating cake, and who hasn't wanted to eat cake for breakfast at one point in their lives?
Rainbows Drive Inn
Rainbows is an old-fashioned drive-inn place located on Kapahulu. It has been open for more than 50 years making it one of the oldest restaurants on Oahu with a reputation par none. If you can't decided what to get, may I suggest anything covered in their famous brown gravy. It is almost as good as your grandma's recipe or in some cases even better.
Highway Inn
If you are looking for a place that has classic Hawaiian food with a modern twist look no further. With two locations, one in Ward and the other in Waiphau it is an easy place to get to fulfill your cravings. You can't go wrong with anything on their menu so if you find yourself not knowing what to get just close your eyes and point to something. You wont be disappointed.
Fresh Catch
Have a craving for fresh fish? Well Fresh Catch is the place for you. It is known for their fresh island poke. Its poke will change your life. And if you wondering with poke to get I suggest their fireball. It is ahi cubes mixed with onion, tobikko, and its secret spicy sauce.
Liliha Bakery
When you combine a breakfast joint with a bakery the result is one that makes your mouth water. Known for their coco puffs, which is a puff pastry filled with chocolate pudding topped with chattily frosting it is a must eat before you leave.
Giovanni's Shrimp Truck.
Only in Hawaii would you get shrimp out of a truck. Giovanni's is located on Oahu famous North Shore. So before you hit the beach make sure you stop by and get your garlic shrimp fix.
Wailoa's Shave Ice
Even the president of the United States stops here on his vacations to Oahu. Another permant fixture of the Hawaiian food scene, it serves the classic Hawaiian treat shave ice with options like snow cap, which is a condensed milk or if you're a little hesitant you can always get it with ice cream. This Hawaiian treat only cost a few dollars and is worth every cent. But always remember to eat it outside.
Sikdorak
Sikdorak is a all you can eat Korean BBQ place located by Ala Moana. Severing up all types of meats you best be sure you go there ready to eat. And for about $20 it is easy to eat your money's worth there.
W&M Burger
W&M Burger is hands down the best place on the island for burgers located in Kaimuki. It serves all their burgers fresh from farm raise cattle in Hawaii. So if you're craving something that fresh yet satisfying meal look no further.