Foodland Farms Ala Moana: Serving fresh local foods with Aloha
Foodland Farms Ala Moana is a grocery shopping and dining experience for locals and foodies alike and exceeded my expectations.
It was a disappointment when the original Foodland closed at the Ala Moana Center on Dec. 13, 2014, after being open for 55 years. When I heard that it was reopening but as a Foodland Farms, I was skeptical. I imagined it as just another overpriced, healthy grocery store like Whole Foods. However, I was pleasantly surprised.
As I entered the store, the fresh local-grown produce and various stations of made-to-order foods immediately caught my attention. There was a salad bar, juice bar, shave ice and ice cream station, pizza station, specialty sandwich station, donut and pastry station, and a large poke and sushi station, to name a few.
One surprise was The Bar at R. Field that served specialty wine, draft beer and even cigars. In addition, it has a wide variety of specialty cheese, cold cuts such as Columbus sopressata salami and pates like TLP truffle mousse pate.
Although there is vast selection of specialty items and fresh local produce, fish and meats, it still has all the aspects of a normal Foodland. There are still frozen foods, bulk foods, snacks, health and beauty products, a pharmacy, and a floral area.
As I contemplated which of the many delicious foods I should try, I ultimately chose poke and HI Steaks.
The poke section of Foodland Farms was incredible. It boasted 14 poke flavors in addition to three types of tako poke, poke rolls, imitation crab meat salads and much more. All the regular favorite poke flavors were present and were normally priced. Some of the additional flavors were masago ahi, truffle ahi and torched dynamite ahi and cost a few dollars more per pound.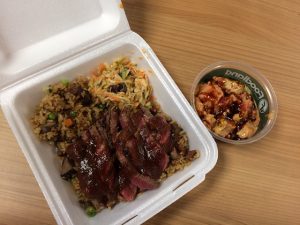 Looking to try something new, I selected the torched dynamite ahi and was glad I did. This was one of the best pokes I have ever tasted. It was slightly smoky, creamy, spicy and savory all in one bite. It included a unagi sauce, which was the source of the sweetness and a wasabi cream sauce, the source of the creaminess and spiciness. Wasabi is a condiment I usually avoid, but it worked perfectly in this poke. The layers of complex flavors made for a top-notch, mouth-watering poke.
To complete my meal, I got in line at HI Steaks. Although it is its own company and just affiliated with Foodland Farms Ala Moana, its food options flowed perfectly with the store concept.
It was difficult to choose which plate to order. After narrowing my choices down to the original steak plate, guava smoked chicken thigh, steak and eggs, and surf and turf, I decided on the original steak plate. To accompany my USDA choice top sirloin, I added lilikoi BBQ sauce, steak fried rice and kim chee cole slaw. I was eager to sit down and eat already. By the way, all this cost me less than $14.
I first tasted the lilikoi BBQ sauce by itself and it was sweet, a little acidic, a little grainy (made me feel like it was made fresh) and very flavorful. Moving on to my steak, I was served about six ounces of meat. It was cooked to a perfect medium rare, just how I like it (the redder the better). There was a balanced combination of meat to fat and it was steakhouse quality. The steak was charred, tender and seasoned well even before I added the lilikoi BBQ sauce, which complemented the steak scrumptiously.
The steak fried rice not only had steak but also some smoked meat in it along with peas and carrots. It was salty, sweet and reminded me of a home-styled fried rice. As for the kim chee cole slaw, it was delightful. It was a beautiful orange color, and I could taste both the traditional cole slaw flavors and kim chee flavors. It was slightly spicy and had the perfect balance of sweet, spicy and creamy flavors.
At the end of the meal, I was on cloud nine and was experiencing "kanak attack." The original steak plate and the torched dynamite ahi surpassed my taste expectations. It was so delicious that I had to post a picture of my meal to Instagram immediately.
Unfortunately, I was too full to attempt to eat dessert. However if I were going to eat dessert there, I would have had the chocolate dobash chantilly shave ice, fresh baked mini cinnamon sugar donuts or banana caramel cream parfait.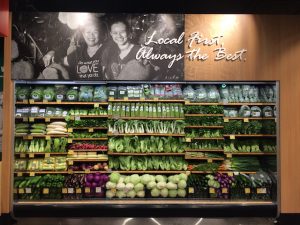 Aside from the food and shopping, every employee I encountered was nice and expressed much aloha. Being in the most commercialized mall in Hawaii, I was surprised how nice everyone was. The lady who sold me my poke was helpful, joked with me that I was eyeing up the torched dynamite ahi and made me feel like a valued customer. At HI Steaks, the cook asked my name and then continued to refer to me by my name. He was personable, and I could feel the aloha he had. As I left, he again referred to me by my name and asked how my meal was. The whole store exemplified what a local Hawaii market should be like.
Overall, I had a delightful experience at Foodland Farms Ala Moana and highly recommend visiting. Whether it is for grocery shopping or grabbing lunch, it will leave you satisfied and eager to return.
Foodland Farms Ala Moana is located on the street level of the Ewa wing at the Ala Moana Center across from Shirokiya. It is open seven days a week from 5 a.m. to 10 p.m.