Top 10: Struggles of a Chaminade Student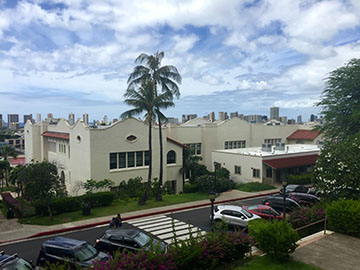 Like many college students, we often think that struggles are endlessly falling into our laps. We struggle with sleepless nights, exams, professors who never grade on a curve, and, of course, maintaining a social life in between studying. As a student attending Chaminade University, I have compiled a list of the top 10 struggles we as Chaminade students must face.
1. "You go to Chaminade? Where is that?"
In Hawaii, anytime people ask, "Where do you go to school?" the top two answers they are expecting to hear is "University of Manoa" or that you decided to attend a university in the mainland. However, when you throw them a curveball like "Chaminade," the majority of the time, they draw a blank, "You go to Chaminade? Where is that?" Of course, then you proceed to explain the location because apparently everyone knows where Saint Louis is, but not the university that is located right next to it since 1955. Chaminade has been here for over 60 years and I am still asked where my school is. Go figure.
2. "I can't find parking!"
Before we can face the struggle of sitting in class, we must first face the struggle of getting to school. What better way to start the day by circling the 165-stall parking structure, driving through third road, and, everyone's favorite, parking all the way at the top, only to walk all the way back down. On occasion, you will get lucky and snatch a great parking stall, but only if you got your timing down. Come too early, say at 8 a.m., good luck to you. However, come at 10:30 a.m. or after 12 p.m., there is bound to be a few stalls open. It is really just a matter of time and luck.
3. "The beach? No thanks, I'm already swimming in debt."
Tuition is one of the biggest struggles we share with millions of other college students everywhere. Within the past year, Chaminade's regular tuition for full-time undergraduate students increased by more than $1,500. Effective July 1, 2015, Chaminade's regular tuition stood at $21,780 for the academic year. One year later, effective July 1, 2016, Chaminade's regular tuition increased to $23,310. Tuition is expensive. Period.  
4. "Open up, this is the RA. We have you surrounded."
Moving into a dorm can be an exciting part of college. Living on your own is one of the first steps to actually feeling like an adult. That is until we meet our resident assistants. We no longer have our parents telling us to clean our room because now we have our RAs telling us to clean our room. As a bonus, if the room fails inspection, you can get a $25 fine. They can also give you a fine for not taking out the trash, not cleaning out the refrigerator, and not vacuuming the carpet. Don't worry, these rules, and many other restricting rules, can all be covered during the mandatory resident hall meetings. The keyword being mandatory unless you would like to be fined $50 for missing the meeting without a 24-hour notice. Isn't adulthood great?
5. "The bookstore is where?"
Maybe this is just the couch potato in me speaking out, but when I am sitting in class, the last thing I want to do is walk all the way down the hill to the bookstore only to walk back up the hill carrying whatever it is I purchased. Struggles.
6. "I guess I won't use a study room afterall."
Study rooms are probably one of the greatest features in our Sullivan Family Library. The struggle is not the room itself but actually getting a room. With Chaminade's enrollment being more than 2,700 students, six study rooms with a three-to eight-people capacity seems a bit inadequate. I guess we will just have to sit on a regular table like regular people. Sigh.
7. "That was my workout."
The legend of the Freshman 15 scares almost all of us. What better way to avoid this phenomenon than by making use of our Carlson Fitness Center located in Kieffer Hall? That's right, Kieffer Hall. The building all the way at the top of the hill. Beyond the Sullivan Family Library. Beyond third row. Beyond the Behavioral Science building. A walk up to Kieffer Hall is a workout on its own.
8. "Mongooses and cats and more cats. Oh my!"
While driving or walking through campus, avoiding cats and mongooses is part of our daily struggle. Cats and mongooses will rest under your car or hide in bushes and run out the second you step too close. Let us keep in mind that wherever animals are, their particular smell lingers.
9. "THE HILL"
We all know what this struggle is, and if you don't, do you really go to Chaminade? The agonizing walk up to the fitness center in Kieffer Hall can be avoided by simply deciding to overlook the use the facility. However in this case, good luck trying to avoid the hill that leads to Chaminade's entire campus. Whether you are getting dropped off at bottom of the hill or standing across the street getting lunch, you will face the walk up the hill sooner or later.
10. "I hate that I love you."
Although we all have to face the majority of these struggles on a daily basis, we still can't seem to leave. We stay late to study, we join clubs, we make friends, and then we graduate. As much as we dislike being asked where Chaminade is, I guess we will have to live with the struggle of explaining our location. Maybe we will have to find parking by circling around campus a few times in order to get to the class that uses the expensive textbooks. And yes, maybe we will have to walk up the ever so dreadful hill, but in the end, all the struggles we deal with will never break us from being a Silversword. And that is a struggle we will just have to deal with.