How I learned to stop worrying and love my Fitbit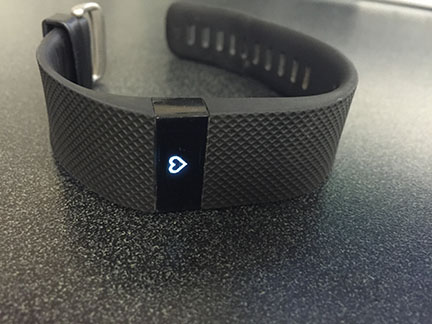 I have always been a fairly healthy individual. From preparing my own meals to weekly Pilates classes, I tend to stay pretty focused on leading a healthy, active lifestyle.
The past few years, however, I have noticed a few extra pounds as well as a general drop in energy. While I used to spend 20-plus hours a week in a ballet studio, I was now spending the same amount of time staring at a computer at my university's communications lab. Something had to change.
Enter: The Fitbit Charge HR.
It started off innocently enough. While visiting my brother's house in Oregon, I noticed that both he and his wife were wearing the Fitbit Charge HR, a watch-like fitness counter that tracks your heart rate in order to keep track of calories burned all from the comfort of your smartphone. They told me how it had helped them keep their fitness goals while engaging in some friendly, step-counting competition through the apps "friend" function.
When I returned home to Hawaii I began to research the different options in the fitness-watch world. The wealth of choices was mind boggling.
Do I stick with the family-approved Fitbit and, if so, which one do I get? My mom wears her Fitbit Flex, the brand's bottom-tier device, like celebrities wore their red Kabbalah bracelets in the early 2000s. Garmin and TomTom, following the advent of Google Maps had also entered the fitness tracking arena but neither had the built-in heart rate monitor my brother had raved about.
Overwhelmed by the overabundance of options and too impatient to sleep on it, I drove down to Best Buy and picked up the big-brother approved Fitbit HR and marched gleefully to the checkout aisle.
The little black band seemed unassuming enough but user beware: If you are anything like me, you may be in danger of becoming slave to your watch.
I entered my calorie intake into the app religiously and to my surprise, I started losing weight, running farther, and generally feeling stronger.
It was around the two-week mark, however, that I started to realize the many ways my Fitbit love could turn into an obsession.
I became compulsive about wearing my Fitbit at all times. This brought up the question of when to charge it as I simply could not take a step without it, nor could I possibly sleep without it telling me precisely how many times I tossed and turned throughout the night.
Perhaps the most glaring deficiency that my Fitbit brought to my attention was the quality of my sleep. In an eight-hour period I would regularly spend an hour or so tossing and turning, which led to regular feelings of fatigue. I have always had issues with feeling tired on a regular basis, but having a chart displaying it right before my eyes was a wake-up call. I soon became obsessed with finding out how to fix myself because if the Fitbit wasn't happy I couldn't be happy either.
The problems obsession crossed over into my waking hours as well. The Fitbit Charge HR is not waterproof, which meant that I would have to remove it every time I showered. This doesn't sound like it would be an issue but I soon found myself taking abnormally large strides in order to reach the sink where I had left my Fitbit just so I could go the absolute minimum amount of time without my precious.
Though I could identify these changes as bordering on obsession, I simply couldn't view my Fitbit as having anything but a positive impact on my life. I had entered a one-woman cult of fitness-band worship and I loved every minute of it. The Fitbit cared about my well-being. The Fitbit loved me and wanted me to succeed at any cost.
I would proselytize to anyone that would listen. It got to the point where I seriously entertained the thought of going door to door to tell my neighbors and close friends about the good news that was the Fitbit HR. I had accepted the little black band as my savior and I could not possibly envision a world where it could bring me any harm.
Then an the aching pains in my forearm started.
Surely the angel on my shoulder (or wrist, rather) couldn't be the cause of this pain? The Fitbit wouldn't do that to me, would it?
As it turns out, yes, yes it would.
My doctor took only a few minutes before diagnosing me with tendonitis, which was likely caused by the bulky, built-in heart rate monitor. Within an hour of removing the band the aching pains went away, and I was forced to consider a future in which my precious Fitbit was not constantly by my side.
As I removed the band from my wrist and placed it into my bedside drawer I reflected on all of the good times we had, the calories we burned, the stairs we climbed, and even the steps we obsessed over together.
Soon after closing the drawer my phone buzzed. An email from Fitbit congratulated me on  receiving its helicopter badge for climbing 500 floors over the life of my Fitbit.
Oh, Fitbit, I don't know how to quit you.