"Orange is the New Black" set to return for Season 3
After almost a year-long hiatus, the notorious ladies of Litchfield Penitentiary are set to make their comeback on June 12. Recently, Netflix released the official trailer for Season 3 of "Orange is the New Black." The 2-minute preview released on April 9 is sure to leave fans eager with anticipation for the return of their favorite inmates as well as the introduction of a few new faces.
Based on a memoir by Piper Kerman about her experiences in prison, Orange is the New Black quickly captivated audiences across the nation. The Netflix original won America over by skillfully balancing drama, comedy and romance. Raw, gripping stories left audience members emotionally invested as the series dealt with a wide range of issues from drugs and alcohol to human trafficking to transgender rights.
In an NPR interview, "Orange is the New Black" creator Jenji Kohan discussed the unique dynamic that a prison setting allows.
"I'm always looking for those places where you can slam really disparate people up against one another, and they have to deal with each other," Kohan told NPR. "There are very few crossroads anymore. We talk about this country as this big melting pot, but it's a mosaic. There's all these pieces, they're next to each other, they're not necessarily mixing. And I'm looking for those spaces where people actually do mix — and prison just happens to be a terrific one."
Season 3 reunites lead character Piper (Taylor Schilling) with her sultry ex-girlfriend Alex (Laura Prepon), who has somehow managed to earn her place back into prison. Forbidden love carries over from previous seasons as inmate Daya continues her relationship with Bennett, a prison guard and the father of her unborn child whose birth is set to occur within the new season. Lavern Cox's beloved character Sophia is seen giving "Boo" a makeover and a brief clip of Nicky in civilian clothes hints at her release. Other familiar faces set to return include "Red," "Crazy Eyes," "Pennsatucky,"  Poussey and "Taystee." Many fans will be delighted to find that Piper's less-than-loveable ex-fiance Larry as well as the malicious and manipulative Vee will not return for another season.
In addition to the beloved recurring characters, much buzz has surrounded the addition of an inmate named Stella played by Australian model Ruby Rose. Although her appearance in the trailer is brief, Stella has already begun to capture hearts as she shoots Piper a flirtatious wink. The chemistry between the two is clear and is sure to create tension as a messy love triangle forms between Piper, Stella and Alex.
Overall, it appears that Season 3 will have a lighter undertone than its darker predecessors. In addition to the official trailer, Netflix released a comedic short of cast members singing "Stop Don't Talk to Me."  Episode titles such as "I'm a Bitch Because I'm Sad," and "Use Your Tears as Lube," elude to a season of humor. With 14 episodes, Season 3 is set to be the series' longest season yet. Catch the complete season on Netflix on June 12.
About the Contributor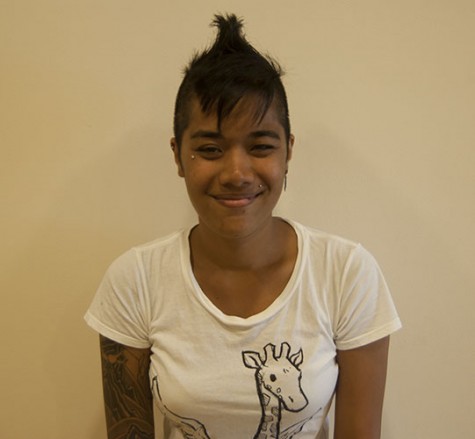 Nadia Fale, Staff Writer
Nadia Fale is a senior pursuing a degree in Communication with a specialization in Integrated Marketing. She was born and raised on the North Shore of...